A13-OLinuXino-WIFI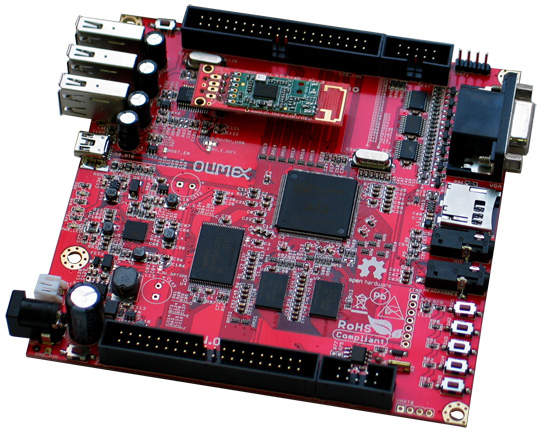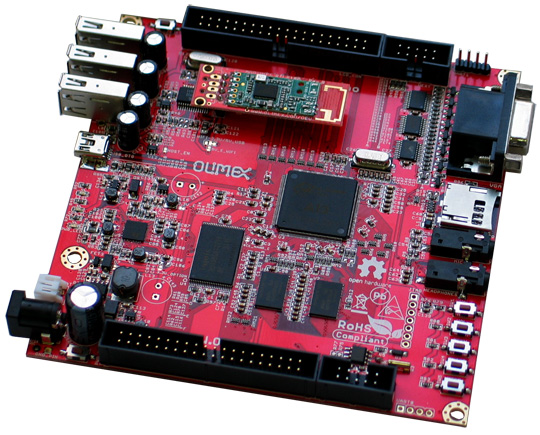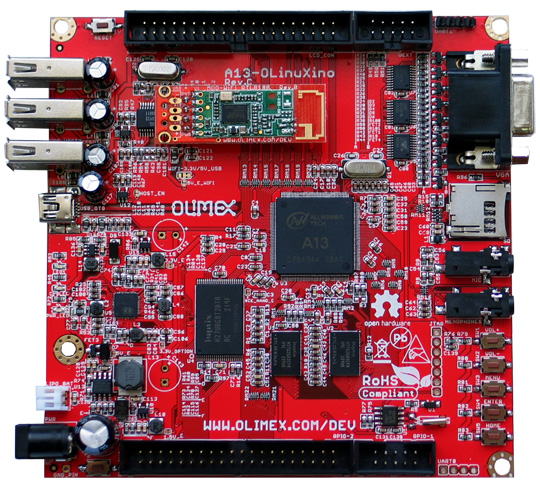 Open Source Hardware Embedded ARM Linux Single board computer with ALLWINNER A13 CORTEX-A8 @1000 Mhz
| | |
| --- | --- |
| Price | 55.00 EUR |
| 10 - 49 pcs | 49.50 EUR |
| 50 - 10000 pcs | 44.00 EUR |
A13-OLinuXino is a low-cost single-board Linux computer in a very compact nano-ITX form. It uses the very first Cortex A8 processor available in the eLQFP176 package, produced by Allwinner Technology Inc A13.
FAQ
What software is available for the board?
The board comes with Android. The Linux development changes very rapidly. So far we have reports for a number of Linux distributions working properly with the board, please visit the WIKI and the GitHub pages of A13-OLinuXino-MICRO to find suitable distributions;also you might want to look in the forum for additional help.
I bought A13-LCDxx but when I connect it to the A13-OLinuXino I receive no image on the display. What do I do wrong?
The default A13-OLinuXino image is set for a VGA display and 800x600 resolution. To use a LCD with the A13-OLinuXino you need to upload a new image with the appropriate settings. The download links for the images may be found in the wiki article for A13-OLinuXino: https://www.olimex.com/wiki/A13-OLinuXino
What is the operating temperature range of A13-OLinuXino-WIFI?
The board works in the commercial temeprature range 0+70C
Can I buy A13 chips from you? What is the price?
Yes, you can. Note that A13 requires power managment IC AXP209 to operate correctly. That is why we are about to sell pairs A13+AXP209. The prices are as follows:

1+ pcs EUR 20.00/pair;
100+ pcs EUR 13.00/pair;
1000+ pcs EUR 10.25/pair;
10 000+ pcs EUR 7.80/pair;
100 000+ pcs EUR 5.35/pair.
Related Products