≡
A13-OLinuXino-MICRO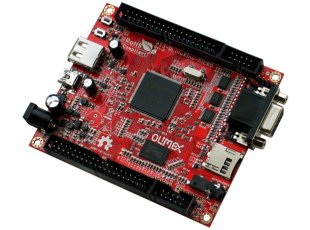 Embedded Linux board with A13 ARM SOC 256MB RAM
| | |
| --- | --- |
| Price | 26.00 EUR |
| 10 - 49 pcs | 24.70 EUR |
| 50 - 10000 pcs | 23.40 EUR |
A13-OLinuXino-MICRO is OSHW certified Open Source Hardware with UID BG000045
A13-OLinuXino is a low-cost single-board Linux computer in a very compact form. It uses the very first Cortex A8 processor available in the eLQFP176 package, produced by Allwinner Technology Inc A13.


FAQ
There is only 1 USB host on the board, how can I connect my USB mouse and USB keyboard simultaneously?
You should use external USB hub.
What software is available for the board?
Many Linux distributions working properly with the MICRO, please visit the WIKI and the GitHub pages of A13-OLinuXino-MICRO to find latest images, we officially support Debian for this board.
I bought A13-LCD7-TS but when I connect it to the A13-OLinuXino-MICRO I receive no image on the display. What do I do wrong?
The default A13-OLinuXino-MICRO image is set for a VGA display and 800x600 resolution. To use LCD with A13-OLinuXino-MICRO you need to upload a new image with the appropriate settings. The download links for the images may be found in the wiki article for A13-OLinuXino-MICRO: https://www.olimex.com/wiki/A13-OLinuXino
What is the operating temperature range of A13-OLinuXino?
The board works in the commercial temperature range 0+70C
Where can I find the Android image for the A13-OLinuXino-MICRO?
At the moment we haven't tested Android booting from a SD card. Android from a SD card is currently not officially supported. However, note that there are people who are reporting success at getting it to run - head to the Olimex forums for more recent info.
How long this board will be available?
This board will be available forever