≡
ESP32-POE-ISO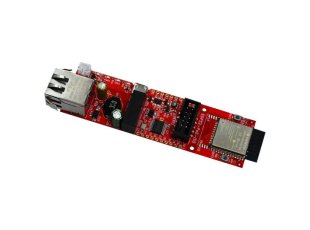 ESP32-POE-ISO IoT development board with 100Mb Ethernet, Power over Ethernet, WiFi, BLE, programmer
Select Product Variant
ESP32-POE-ISO
ESP32-POE-ISO-EA
ESP32-POE-ISO-EA-IND
ESP32-POE-ISO-IND
ESP32-POE-ISO-WROVER
ESP32-POE-ISO-WROVER-EA
| | |
| --- | --- |
| Price | 24.95 EUR |
| 10 - 49 pcs | 22.46 EUR |
| 50 - 10000 pcs | 19.96 EUR |
ESP32-POE-ISO is
OSHW certified
Open Source Hardware with UID BG000021
ESP32-PoE is an IoT WIFI/BLE/Ethernet development board with Power-Over-Ethernet feature. The PoE is handled by TPS2375PW chip (Si3402-B in older revisions) that is IEEE 802.3-compliant, including pre-standard (legacy) PoE support. The PoE chip requires at least 37V DC to operate successfully. The board takes power from the Ethernet cable and can be expanded with sensors and actuators. Perfect solution for Internet-of-Things projects.
ESP32-POE-ISO has 3000VDC galvanic insulation from Ethernet power and uses ESP32-WROOM-32E module.

ESP32-POE-ISO-EA has ESP32-WROOM-32UE module with U.FL connector and external antenna attached, which allow mounting in metal box.

ESP32-POE-ISO and ESP32-POE-ISO-EA operate in the commercial temperature range 0-70C
ESP32-POE-ISO-IND and ESP32-POE-ISO-EA-IND are functionally identical, but use components rated for industrial temperature operation -40+85C
ESP32-POE-ISO-WROVER comes with ESP32-WROVER-E with 4MB flash and 8MB PSRAM, while ESP32-POE-WROVER-EA uses ESP32-WROVER-IE (again with 4MB flash and 8MB PSRAM)
FAQ
ESP32-PoE-ISO doesn't work well with bauds over 115200. What to do?
Some older drivers might have wrong timings, causing worse throughput. Download and install the latest drivers for CH340. If you are using Linux make sure to try with these drivers: high-speed driver for Linux
Is it safe to have USB powering and PoE powering connected and enabled at the same time?
Yes, when using ESP32-POE-ISO it is safe to have them both enabled.
Where are I2C, UART, SPI pins exposed?
The ESP32 chip has very advanced multiplexing and you can define any free GPIO pin for I2C, UART, SPI operation as long as you are within the maximum supported (some penalties to SPI's maximum freqncy apply, when not using the dedicated pins). Notice that some ESP32 pins can only be inputs. Defining pins is for another job is purely software effort.
I provide 24V to the input of ESP32-PoE-ISO's Ethernet but it doesn't seem powered. What is the problem?
TPS2375PW (Si3402) would NOT work with 24V DC. The recommended voltage is 48V DC and the minimum is around 37V DC. For more info refer to TPS2375PW's (Si3402-B's) datasheet.
I power the board from the Ethernet connector. What current do I have availabe for additional circuits?
The isolated DCDC that we use provides up to 2W, this means 400mA @ 5V, 100mA are reserved for the battery charge (available if no battery is connected) and 100mA are provided for ESP32, which leaves up to 200mA @ 5V for your additional circuit.
I power the board from the battery connector. The LEDs remain off. Is it borken?
Probably not. This is a low-power design. The LEDs would not turn on when operating on battery to save power. You need other ways to determine if it works or not. For example, something over the serial lines or over the Ethernet (with no PoE enabled else it would get powered from there).