≡
A20-OLinuXino-MICRO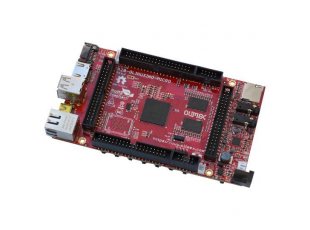 Embedded ARM Linux computer with Allwinner A20 1GB RAM and Megabit Ethernet
Select Product Variant
A20-OLinuXino-MICRO
A20-OLinuXino-MICRO-e16Gs16M
A20-OLinuXino-MICRO-e4Gs16M
A20-OLinuXino-MICRO-n8G
A20-OLinuXino-MICRO-s16M
T2-OLinuXino-MICRO-e16Gs16M-IND
T2-OLinuXino-MICRO-e8Gs16M-IND
T2-OLinuXino-MICRO-IND
T2-OLinuXino-MICRO-s16M-IND
| | |
| --- | --- |
| Price | 42.00 EUR |
| 10 - 49 pcs | 39.90 EUR |
| 50 - 10000 pcs | 37.80 EUR |
A20-OLinuXino-MICRO is OSHW certified Open Source Hardware with UID BG000040
Linux-enabled Allwinner A20 development board with Ethernet, HDMI output, 1GB DDR3 RAM memory, two SD card connectors, plenty of free GPIOs and much more.

Open source hardware and open source software A20 Linux board with 0.1" step connectors for easier access and evaluation.
We offer several variants of this board. Aside from the base version we offer a variant with extra eMMC or NAND flash memory (suffix -e4G, -e16G, or -n8G); we have a variant with 16M SPI flash memory (suffix -s16M). We also have variants of the board suitable for industrial temperature range of operation (-40+85)C - these come with the "T2" chip and have "-IND" suffix in the name.
FAQ
I am an inexperienced user and I'm afraid to mess up initially. What are the most common errors in the initial start-up of the board?
The best idea is to download the latest official image provided for the board. After that ensure the image is properly written to the SD card or the flash memory. Finally, if you are expecting video output problems, ensure the image is set with the proper settings for the display or monitor you are going to use. Double check if the power supply is sufficient (especially if powering a display from the board).
I purchased A20-OLinuXino-MICRO with extra flash memory and want to install Linux to the flash. Is this possible?
Yes. Prepare a card with the official Linux image and run an install script. If your board has NAND memory you would have to use older kernel releases (3.4.x) since newer kernel releases lack NAND support (only eMMC).
I can't find Android image with VGA output. Please send me an image with the correct configuration settings.
We couldn't compile Anroid image with proper VGA output despite our numerous attempts, we have only Android image for HDMI or LCD output. Please note that: we neither have nor provide an Android image for a VGA monitor. There is a tested and working Linux image for VGA monitor.
How long this board will be available?
This board will be available forever