≡
A20-VGA-CABLE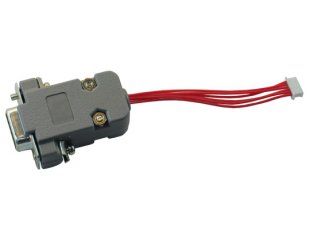 A20-VGA-CABLE - adapter from 6-pin connector to 15-pin one
| | |
| --- | --- |
| Price | 3.00 EUR |
| 10 - 49 pcs | 2.70 EUR |
| 50 - 10000 pcs | 2.40 EUR |
Allows the easier interfacing of the A20-OLinuXino-MICRO board to displays with VGA port connector (very useful if you lack HDMI screen). The signals from the small one-row 6-pin connector are lead to three-row 15 pin standard VGA connector
FAQ
I connect this cable to the A20 board and then the cable to my VGA-compatible TV set, then I power the board and a LED turns on but there is no output on the TV. Where I did wrong?
You need to download the newest sunxi 3.4.x Debian Linux image and use the script to change the default video output configuration. This adapter does NOT work with mainline kernel images. More information on how-to do it might be found at the wiki article: A20-OLinuXino-MICRO wiki
Can I use the cable with any of other your Debian-enabled boards except for A20-OLinuXino-MICRO?
The cable was made for A20-OLinuXino-MICRO since it has a 6-pin connector. Not all boards work out-of-the-box with A20-VGA-CABLE. For example, to make the cable work with LIME boards your might need to make hardware modifications or use wires (mentioned in the user's manual).
I can't make Android work with the cable. Please send me an image with the correct configuration settings.
We can't either, despite our numerous attempts. Please note that: we neither have nor provide an Android image for VGA screen.