≡
LCD-OLinuXino-4.3TS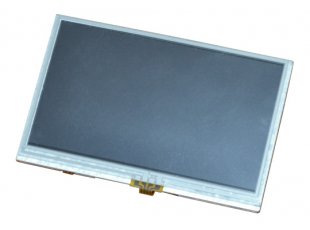 4.3 inch LCD screen with backlight and resistive touch screen panel, compatible with OLinuXino boards
Select Product Variant
LCD-OLinuXino-4-3
LCD-OLinuXino-4.3TS
| | |
| --- | --- |
| Price | 35.00 EUR |
| 10 - 49 pcs | 31.50 EUR |
| 50 - 10000 pcs | 28.00 EUR |
A 4.3" LCD display with a resistive touch screen component, compatible with Olimex A10, A13, A10s, A20 Allwinner development boards with either 0.1" or 0.05" LCD connector. Suitable for Linux and Android video output.
FEATURES
TFT Panel Features:
Construction: 4.3" color TFT-LCD, White LED Backlight and PCB.
Resolution (pixel): 480x272
Touch screen for -TS version
Two interface connectors: both 40 pin 0.1" pitch and 40 pin 0.05" pitch
Power supply voltage: 5V external power jack or 40 pin LCD connector.
Note that the cable to connect to your board is sold separately
SOFTWARE
Please check the OLinuXino wiki articles which contain suitable Linux images for the 4.3" display.
FAQ
I bought LCD-OLinuXino-4.3TS but there is no ready Android for it. Where can I find it?
The display is too small to be used with our latest Android releases. Please either use Debian or get a 7" or 10" inch display.
I bought LCD-OLinuXino-4.3TS but when I connect it to the A13-OLinuXino I receive no image on the display. What do I do wrong?
The default A13-OLinuXino image is set for a VGA display and 800x600 resolution. To use LCD with A13-OLinuXino you need to run a configuration script. More information might be found here: https://www.olimex.com/wiki/A13-OLinuXino
I bought LCD-OLinuXino-4.3TS and the SD card that has Linux image written on it. However the resolution I see on my VGA/LCD is not correct. What am I missing?
You would need to run a configuraiton script as explained in the wiki article for the respective board