≡
STM32-P405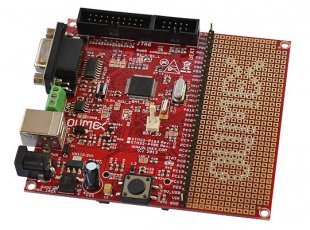 Header board for STM32F405RGT6 ARM Cortex M4 1024KB FLASH 168 Mhz 192kB SRAM
| | |
| --- | --- |
| Price | 18.95 EUR |
| 10 - 49 pcs | 18.00 EUR |
| 50 - 10000 pcs | 17.06 EUR |
STM32-405STK is a general-purpose development board that allows the evaluation of STM32F405.
The STM32F405RG ARM Cortex-M4 processor is part of the latest generation of ARM processors for embedded systems. It has been developed to provide a low-cost platform that meets the needs of a MCU with reduced pin count and low-power consumption, while delivering high computational performance and an advanced system response to interrupts. The ARM Cortex-M4 32-bit RISC processor features exceptional code-efficiency, delivering the high-performance expected from an ARM core in the memory size usually associated with 8- and 16-bit devices.

STM32-P405 is a start-up board for evaluating the new ST Cortex-M4 microcontrollers. The board has a standard 20-pin JTAG/SWD connector for programming. STM32-P405 has also RS232 and both USB and CAN. The board features proto area with all microcontroller signals available on it, giving the customer an easy way to implement his own schematics and add-ons. The STM32-P405 board is compatible with all the tools and software used in typical ARM development environment.

New version with GD32F405RGT6 pin to pin compatible MCU is available. Notice that software and bianries made for STM32-P405 might not work without re-building for GD32-P405. Your software should support GD32F405 and you should rebuild your project with GD32F405RG set as target.