≡
A13-SOM-WIFI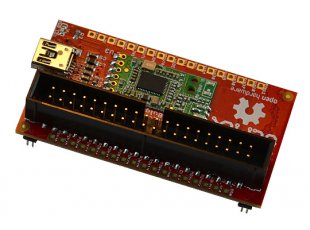 Olimex A13-SOM-WIFI WiFi shield for A13-SOM System on module
Select Product Variant
A13-SOM-WIFI
A13-SOM-WIFI-4GB
| | |
| --- | --- |
| Price | 17.00 EUR |
| 10 - 49 pcs | 15.30 EUR |
| 50 - 99 pcs | 13.60 EUR |
| 100 - 999 pcs | 12.75 EUR |
| 1000 - 10000 pcs | 11.90 EUR |
A13-SOM-WIFI is System on Chip module shield which add WIFI connectivity to A13-SOM-XXX. All A13 signals are available on 0.1" holes.
A13-SOM-WIFI is an Open Source Hardware shield reference design with Eagle CAD files - everyone can modify and tailor the original design.
FEATURES
BL-8188-8M WiFi wireless module with Realtek RTL8188CUS chip
4GB Flash for A13-SOM-WIFI-4GB version
USB-OTG with mini USB connector
LCD_CON header, compatible with the 4.3" and 7" Olimex-made displays
Support for the peripherals in the official A13-SOM Debian and Android releases
Power management DCDC
GPIO on 0.1" step holes
Built-in PCB antenna
Dimensions: (2.4 x 1.3)" ~ (6.1 x 4.8)cm
DOCUMENTS
FAQ
I want to extend the peripheral capabilites of my A13-SOM-256 board. I stumbled upon A13-SOM-WIFI and it looks great. However, I wonder how does it get attached to my A13-SOM-256 board?
You can plug the A13-SOM-WIFI shield over A13-SOM-xxx directly. No cable is required.

IMPORTANT: the connectors are very fragile - if you attempt to disconnect the setup by pulling the connectors in on go it might break! Furthermore - you might bend the board's pins! Use pliers or other suitable object to disconnect the connectors carefully.
I want to get both A13-SOM-512 board and a A13-SOM-WIFI. I am not convinced that a setup of those two boards has the proper support in the official Debian image. Can I assume that the hardware features of A13-SOM-WIFI are proplery supported by the software?
Yes. Such a setup of A13-SOM-XXX board and A13-SOM-WIFI is tested and supported in the official images.
I see that the board has a built-in PCB antenna. However, I want to extend the range of the module. How can I connect external antenna?
A standard connector for an external antenna is not provided by design. You would need to perform complex hardware modifications - cut the PCB antenna and then use the ANT signal line. Refer to the hardware design files.