≡
STMicro STMP1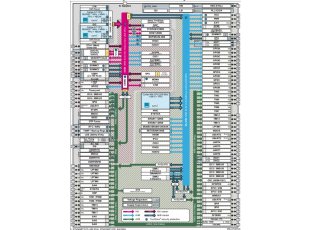 STM32MP151,STM32MP153 and STM32MP157 System on modules
STM32MP15X SOC are Dual-core Arm Cortex-A7 running up to 800 MHz and Cortex-M4 at 209 MHz combined with a dedicated 3D graphics processing unit (GPU), Gigabit Ethernet interface, MIPI-DSI display interface and a CAN FD.
The system on modules are produced in Commercial 0-70C temperature, Extended (-EXT) -20+85C temperature with SOC working on 800Mhz or Industrial (-IND) -45+85C temperature with SOC working on 650Mhz.
Unless ST Microcelectronics extend more the availability of STM32MP1 line Olimex will long term supply STM32MP157DAA1 based boards up to year 2036.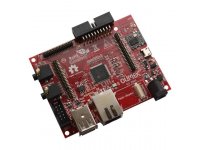 Evaluation board for STM32MP151 STM32MP153 STM32MP157 and A13 System on Modules SOM
18.00 EUR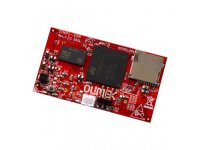 System on module for STM32MP151 STM32MP153 STM32MP157 Dual Core Cortex-A7 SOC from ST Microelectronics
STMP151-SOM-256
STMP151-SOM-512-IND
STMP153-SOM-512-IND
STMP157-SOM-512-EXT
STMP157-SOM-512-IND
30.00 EUR
FEATURES
32-bit dual-core Arm ® Cortex ® -A7
TrustZone
6 × I 2 C FM+ (1 Mbit/s, SMBus/PMBus)
4 × UART + 4 × USART (12.5 Mbit/s)
6 × SPI (50 Mbit/s)
4 × SAI
3 × SDMMC
2 × CAN
2x USB 2.0 HS host
FS USB-OTG
Gigabit Ethernet
CSI up to 140 Mbyte/s
2 × ADCs with 16-bit max. resolution (12 bits
up to 4.5 Msps, 14 bits up to 4 Msps, 16 bits up
to 3.6 Msps)
2 × 12-bit D/A converters (1 MHz)
3D GPU: Vivante ®
DOCUMENTS
STM32MP151 datasheet
STM32MP153 datasheet
STM32MP157 datasheet
STM32MP1 user manual
HARDWARE
GitHub repository with the schematic and KiCad files for EVB
SOFTWARE
Olimex mainline Linux images
Olimex mainline Uboot and Linux Kernel building script