≡
NB-IoT-BC66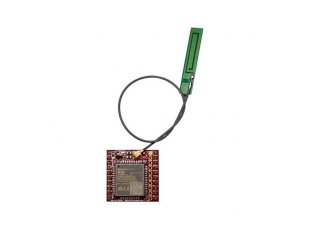 NB-IoT development board with BC-66 module from Quectel
Select Product Variant
NB-IoT-BC66
NB-IoT-BC66-ANT
NB-IoT-BC66H
NB-IoT-BC66H-ANT
| | |
| --- | --- |
| Price | 15.50 EUR |
| 50 - 99 pcs | 15.19 EUR |
| 100 - 499 pcs | 14.88 EUR |
| 500 - 999 pcs | 14.57 EUR |
| 1000 - 10000 pcs | 14.26 EUR |
NB-IoT (Narrowband Internet of Things) technology is a direct competitor to LoRaWAN and SigFox and has a few advantages:
higher speed 25.5 kbps up and down link
single GSM cell can connect to up to 100 000 NB-IoT nodes
single GSM cell can cover up to 10-100km rural and 1-10km urban distance
can work up to 10 years on Lithium 3V battery if less than 200 bytes are sent per day
Note: All GSM cells which work with LTE can also support NB-IoT, but this requires new protocol installation and licensee fee, so not all operators provide it by default. You have to check with your local GSM operator if he offers NB-IoT. Also SIM card must have this protocol enabled. SIM with LTE may or may not work with NB-IoT, this depends on your operator.
NB-IoT-BC66-ANT has GSM antenna included.
NB-IoT-BC66H has EXT1 and EXT2 headers soldered.

NB-IoT-BC66 modules are meant for embedding. Experience with BC66 technology is required. For research and development it is highly recommended to evaluate the technology with NB-IoT-DevKit first (before switching to the modules)!

Distance between EXT1 and EXT2 = 22.86 mm (0.9" )
Distance between EXT2 and EXT3 = 2.54 mm (0.1")
FAQ
The module stops after some time. Can't access it anymore. What is the problem?
By default the module might be set to power saving and might enter sleep. Make sure to disable sleep modes (AT+CPSMS=0 to disable power saving mode setting).