≡
OLIMEXINO-STM32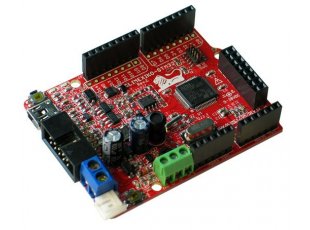 Open Source Hardware MAPLE (ARDUINO-like) development board
| | |
| --- | --- |
| Price | 16.95 EUR |
| 10 - 49 pcs | 15.26 EUR |
| 50 - 10000 pcs | 13.56 EUR |
Olimexino-STM32 is OSHW certified Open Source Hardware with UID BG000035
ARDUINO / MAPLE like board with STM32F103RBT6.


FAQ
We're working on a design using the OLIMEXINO-STM32 board for an automotive application. Should we add additional protection on the power supply input or the current protection is OK for automotive use?
When we designed OLIMEXINO-STM32 we wanted create an Industrial not an Automotive board, so if you want to use it in an Automotive application, you have to add 18V TVS or varistor on the power supply input.
I have problem connecting the device to Windows 7 Embedded.
The embedded version misses the driver usbser.sys from system32/drivers folder.
PROJECTS/REVIEW