≡
BB-CH340T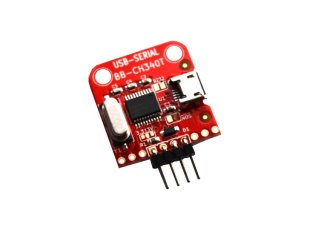 USB to Serial converter with CH340T IC, suitable for breadboarding
| | |
| --- | --- |
| Price | 3.95 EUR |
| 10 - 49 pcs | 3.56 EUR |
| 50 - 10000 pcs | 3.16 EUR |
BB-CH340T is
OSHW certified
Open Source Hardware with UID BG000069.
USB <-> serial converter with 3.3V or 5V voltage selection (both powering and serial lines)
FAQ
BB-CH340T doesn't work well with bauds over 115200. What to do?
Some older drivers might have wrong timings, causing worse throughput. Download and install the latest drivers for CH340. If you are using Linux make sure to try with these drivers: high-speed driver for Linux

This board used to have mini USB connector! My latest purchase came with micro USB connector. Why the change?
Yes, in hardware revision B the USB connector was changed from USB mini to USB micro. The reason for the change was that USB micro cables are far more common and easier and cheapr to acquire, and in most cases customers already have a USB micro cable anyway.