≡
LCD-OLinuXino-4.3TS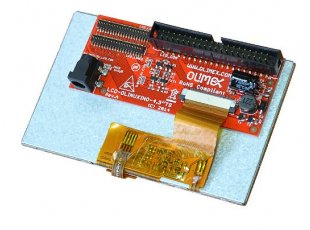 4.3 inch LCD screen with backlight and resistive touch screen panel, compatible with OLinuXino boards
Select Product Variant
LCD-OLinuXino-4.3
LCD-OLinuXino-4.3RTS
LCD-OLinuXino-4.3TS
| | |
| --- | --- |
| Price | 22.00 EUR |
| 10 - 49 pcs | 20.90 EUR |
| 50 - 10000 pcs | 19.80 EUR |
LCD-OLinuXino-4.3 is OSHW certified Open Source Hardware with UID BG000052
A 4.3" LCD display with a resistive touch screen component, compatible with Olimex A10, A13, A10s, A20 Allwinner development boards with either 0.1" or 0.05" LCD connector. Suitable for Linux and Android video output.
LCD-OLinuXino-4.3 is just LCD with no touch panel
LCD-OLinuXino-4.3TS is LCD with resistive touch panel and analog interface suitable for A10, A20 OLinuXino default configuration
LCD-OLinuXino-4.3RTS is LCD with resistive touch panel and digital interface suitable for A33, A64 (also A10/A20 if their digital interface is enabled)
FEATURES
TFT Panel Features:
Construction: 4.3" color TFT-LCD, White LED Backlight and PCB.
Resolution (pixel): 480x272
Touch screen for -TS version with digital or analog interface
Two interface connectors: both 40 pin 0.1" pitch and 40 pin 0.05" pitch, additional FPC connector for RTS version.
Power supply voltage: 5V external power jack or 40 pin LCD connector.
Note that the cable to connect to your board is sold separately
DOCUMENTS
SOFTWARE
Please read LCD-OLinuXino Selection guide to learn how to enable 4.3" display support.
FAQ
I bought LCD-OLinuXino-4.3TS but there is no ready Android for it. Where can I find it?
The display is too small to be used with our latest Android releases. Please either use Debian or get a 7" or 10" inch display.
I bought LCD-OLinuXino-4.3TS but when I connect it to the A13-OLinuXino I receive no image on the display. What do I do wrong?
The default A13-OLinuXino image is set for a VGA display and 800x600 resolution. To use LCD with A13-OLinuXino you need to run a configuration script. More information might be found here: https://www.olimex.com/wiki/A13-OLinuXino
I bought LCD-OLinuXino-4.3TS and the SD card that has Linux image written on it. However the resolution I see on my VGA/LCD is not correct. What am I missing?
You would need to run a configuraiton script as explained in the wiki article for the respective board