≡
MOD-IR-TEMP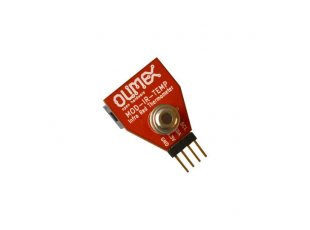 Infra Red high precision non-contact temperature measurement sensor module for UEXT connector or breadboard
| | |
| --- | --- |
| Price | 9.95 EUR |
| 10 - 49 pcs | 8.96 EUR |
| 50 - 10000 pcs | 7.96 EUR |
MOD-IR-TEMP is an infra red thermometer based on MLX90614BAA IC. MLX90614BAA is factory calibrated in wide temperature range:
-40 to 125 ̊C for sensor temperature and

-70 to 380 ̊C for object temperature.
VERY IMPORTANT: MOD-IR-TEMP works at 3.3V! Please set your Arduino board to 3.3V operation or you will damage the module.