≡
MOD-POE-V2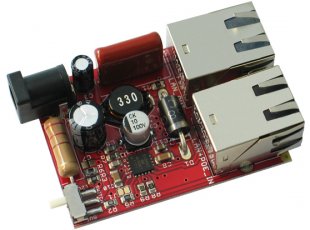 PoE adapter add power to your embedded web server or board taken from Ethernet line
| | |
| --- | --- |
| Price | 9.95 EUR |
| 10 - 49 pcs | 8.96 EUR |
| 50 - 10000 pcs | 7.96 EUR |
The MOD-POE-V2 board extracts power from the UTP LAN cable network, so you can power your embedded device with 5 or 12VDC, and power and Ethernet are carried at the same cable. Note that the LAN cable should be connected to a PoE-compatible switch/router.
IMPORTANT NOTES
The MOD-POE-V2 follows the recommendations set by IEEE 802.3af-2003 standard. MOD-POE-V2 is not compatible with MOD-POE injector (because it needs higher input voltage).

MOD-POE-V2 works only in Alternative B (Mode B).
FEATURES
Si3402 PoE controller with DC-DC step down converter and PoE protocol negotiation
Power output is selectable via a switch - 5 / 12 VDC
Dimensions: (54 x 39)mm ~ (2.12 x 1.54)"
Operating temperature range: -40°C to +85°C
HARDWARE
FAQ
I provide 24V to the input of MOD-POE-V2 but there is no output. What is the problem?
Si3402 has a minimum of 30V start-up threshold (36V maximum start-up threshold). Please provide 36V to LAN+POE_IN and check again.
Does MOD-POE-V2 work in both PoE modes - A and B?
No. By default MOD-POE-V2 works only in mode B - pins 4–5 form one side of the DC supply and pins 7–8 provide the return; these are the "spare" pairs in 10BASE-T and 100BASE-TX. Mode B requires a 4-pair cable.
What is the maximum current output approximately?
The maximum output is close to 10W. This means ~800mA for the 12V output mode; ~2000mA for the 5V output mode.