≡
DUINOMITE-eMEGA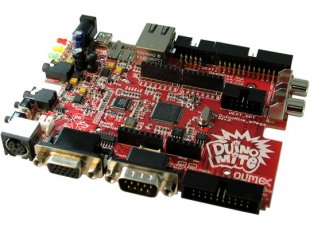 Open Source Hardware MAXIMITE basic computer with ARDUINO like layout
| | |
| --- | --- |
| Price | 34.95 EUR |
| 10 - 49 pcs | 31.46 EUR |
| 50 - 10000 pcs | 27.96 EUR |
Duinomite-eMega is OSHW certified Open Source Hardware with UID BG000032
DuinoMite is a Maximite Compatible Basic computer, originally designed by Geoff Graham, with additional features and Arduino like layout. DuinoMite allow you to program in BASIC language and have VGA and Keyboard interface, so you can develop and write your code in Basic without the need of any computer. You can store your code on the SD-CARD and to execute it on power up through autoexec.bas main code.
Note: The BASIC language support for this board is limited. We recommend that you use C to be able to explore all of the features of the board. Find out more about the Duinomite-Maximite story here:eMEGA BASIC troubles
DUINOMITE PROJECTS
WARNING
Do not use the "programmer-to-go" button when there is no image on the OLIMEX PIC-KIT3 or MICROCHIP PIC-KIT3 because that might put your microcontroller in an irrecoverable state. We have tested the mentioned scenario and we can confirm it destroys PIC32 chips (using both our and the original Microchip PICKIT3). We don't take responsibility if you break your chip that way. For more info check the following: www.microchip.com/forums/m635420.aspx.