≡
AVR-T32U4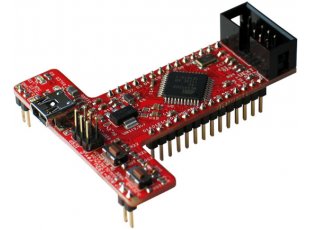 ARDUINO LEONARDO like development board for breadboard
| | |
| --- | --- |
| Price | 12.95 EUR |
| 10 - 49 pcs | 11.66 EUR |
| 50 - 10000 pcs | 10.36 EUR |
ARDUINO Leonardo like board with ATMEGA32U4.
FAQ
I can't find compatible drivers in the latest 1.0.1 Arduino IDE/drivers folder. What should I do?
You have to program the board with the latest bootloader available.
I installed version 1.0.0 of Arduino IDE but I can't find Leonardo under boards
Un-comment the Leonardo section in the "\hardware\arduino\boards.txt" file in your Arduino IDE install location
I disabled all interrupts and entered an infinite loop code on my board and now the bootloader won't start. How do I start it?
You need a programmer to program the bootloader again. Avoid disabling interrupts at all costs.