≡
STM32-H103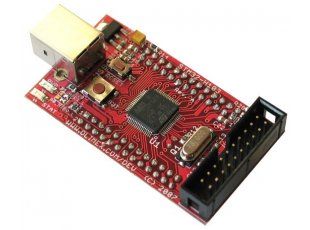 Header board for STM32F103RBT6 CORTEX-M3 microcontroller
| | |
| --- | --- |
| Price | 15.95 EUR |
| 10 - 49 pcs | 15.15 EUR |
| 50 - 10000 pcs | 14.36 EUR |
The ARM Cortex-M3 processor is the latest generation of ARM processors for embedded systems. It has been developed to provide a low-cost platform that meets the needs of MCU implementation, with a reduced pin count and low power consumption, while delivering an outstanding computational performance and an advanced system response to interrupts. The ARM Cortex-M3 32-bit RISC processor features exceptional code-efficiency, delivering the high-performance expected from an ARM core in a memory size usually associated with 8- and 16-bit devices.
The board has the medium-density STM32F103 inside with an embedded ARM core which is compatible with all ARM tools and software. It combines the high performance ARM Cortex-M3 CPU with an extensive range of peripheral functions and enhanced I/O capabilities. STM32-H103 is a low-cost development board for the new ST Cortex-M3 based microcontrollers STM32F103RBT6. This board is the perfect solution for USB peripherals development. All microcontroller ports are available on extension connectors.

New version with pin to pin compatible GD32F103RBT6 is now available.