≡
A20-SOM204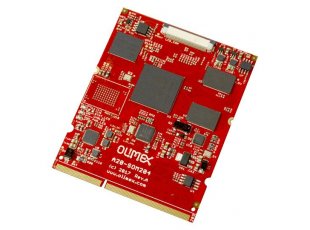 SO-DIMM format system on chip module with A20 Dual Core Cortex-A7 processor
Select Product Variant
A20-SOM204-1G
A20-SOM204-1G-M
A20-SOM204-1Gs16Me16G-MC
T2-SOM204-1G-I
T2-SOM204-1Gs16Me4G-C-I
T2-SOM204-1Gs16Me8G-MC-I
| | |
| --- | --- |
| Price | 36.00 EUR |
| 10 - 49 pcs | 32.40 EUR |
| 50 - 99 pcs | 28.80 EUR |
| 100 - 999 pcs | 27.00 EUR |
| 1000 - 10000 pcs | 25.20 EUR |
A20-SOM204 is a System-on-Chip module, which contains A20 Dual Core Cortex-A7 processor, power managment unit AXP209, 1GB DDR3 memory. This SOM board can have up to 64GB eMMC flash memory (eXXG) and/or 16MB seral flash memory (s16M).
Ordering code is as follows: A20-SOM204-1Ge16Gs16M-MC
The suffix after A20-SOM204 is abbriviation of the extra features available. For example, suffix "1Gs16Me16G-MC" means 1GB RAM; 16MB SPI Flash; 16GB eMMC flash; additional Megabit Ethernet and Crypto engine.
Suffix -I means that the components of the System-on-Module are picked for industrial temperature range of operation (-40°C to 85°C). Lack of suffix "-I" means that the board is suitable for commercial temperature range of operation (0-70)°C.
Reference design SOM204-EVB with CAN, SATA, PCIe, USB3.0, USB-OTG, USB2.0 HOST, VGA, HDMI, Audio In/Out, 2 Mpix Camera, Gigabit and Megabit Ethernet is available with Eagle CAD files, so everyone can modify and tailor to his needs. Templates for A20-SOM204 receiptacle done in Eagle and KiCAD are available.
FEATURES
Allwinner A20 dual core Cortex-A7 processor, each core typically running at 1GHz
AXP209 PMU IC
1GB DDR3 memory
Up to 64 eMMC (marked as eXXG)
Gigabit Etherner (default option)
Additional Megabit native Ethernet (-M option)
SATA
Optional Crypto engine (-C option)
Status LED
204 pin SO-DIMM signals on PCB edge
Flat cable 40 pin LCD connector
Flat cable 12 pin GPIO connector
Dimensions: 67 x 84 x 5 mm
Operating temperature: (0-70)°C for A20-SOM204XXX
Operating temperature: (-40+85)°C for A20-SOM204XXX-I
DOCUMENTS
A20-SOM204 user manual (under development)