≡
AgonOrigins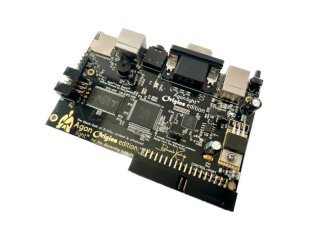 AgonOrigins - AgonLight with Bernardo's signature - Single Board BBC Basic Z80 Modern Retro style Computer
AgonOrigins is a re-design of the original Open Source Hardware design of AgonLight by Bernardo Kastrup a.k.a. TheByteAttic. The firmware is developed by Dean Belfield.
AgonOrigins is not a emulator, it uses modern ez80 processor which is a new, improved version of the classic Z80 which can address up to 16MB of memory (24 bit address bus) and runs at 20Mhz!
ESP32-PICO-D4 is used as sound and graphics co-processor.
The micro SD card acts like a disk drive where you can load and save programs, write and read data.
Color VGA output supports 320x200 64 colors, 512x384 16 colors, 640x480 16 colors, 1024x768 2 colors.
AgonOrigins combines retro with modern, you can do old school games and at the same time you can do small home automation jobs, attaching different sensors and relays to the GPIO port.