≡
LCD7-METAL-FRAME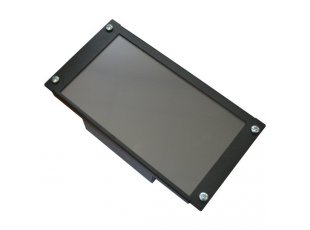 LCD7-METAL-FRAME is a metal enclosure for OLinuXino LIME or LIME2 with 7" LCD with or without touchscreen
Select Product Variant
LCD7-METAL-FRAME
LCD7CTS-METAL-FRAME
| | |
| --- | --- |
| Price | 16.00 EUR |
| 10 - 49 pcs | 15.20 EUR |
| 50 - 10000 pcs | 14.40 EUR |
LCD7-METAL-FRAME is an easy-to-assemble metal frame-box where you can fit A10 or A20 OLinuXino LIME or LIME2 with 7" LCD with or without touchscreen. As you can see on the pictures this frame is very easy to attach to any flat surface making it perfect for Man-Machine interface solutions. On the back side all connectors of OLinuXino LIME are exposed and available. Note that the LCD and OLinuXino boards are not included in the price above and must be ordered separately together with LCD cable CABLE-40-40-10CM.

LCD7-METAL-FRAME is made for LCD-OLinuXino-7 and LCD-OLinuXino-7TS.
LCD7CTS-METAL-FRAME is made for LCD-OLinuXino-7CTS as it have different touch panel area..
FEATURES
Metal frame for 7" LCD
Consists of 3 metal parts, x4 screws M4 and x4 M4 nuts for panel fixation to flat surface
Includes: x1 M3x6 hexagonal spacer, x3 screws M3x4 to hold the LIME board
Designed for A10/A20-OLinuXino-LIME/2 boards
Can be assembled with ot without touchscreen
You can order assemble services see LCD7-ASSEMBLY-SERVICE