≡
A20-OLinuXino-LIME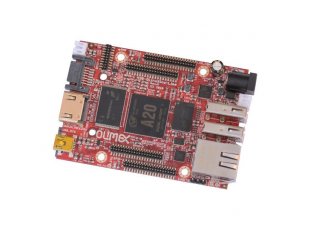 Olimex A20-OLinuXino-LIME Open Source Hardware embedded ARM Linux Android computer with Allwinner Dual Core Cortex-A7 A20 512MB RAM and 100Mb Ethernet 16GB eMMC 16MB SPI Flash Industrial grade -40+85C
Select Product Variant
A20-OLinuXino-LIME
A20-OLinuXino-LIME-e16Gs16M
A20-OLinuXino-LIME-e4Gs16M
A20-OLinuXino-LIME-n8G
A20-OLinuXino-LIME-s16M
T2-OLinuXino-LIME-e8Gs16M-IND
T2-OLinuXino-LIME-IND
T2-OLinuXino-LIME-s16M-IND
| | |
| --- | --- |
| Price | 42.00 EUR |
| 10 - 49 pcs | 39.90 EUR |
| 50 - 10000 pcs | 37.80 EUR |
A20-OLinuXino-LIME is OSHW certified Open Source Hardware with UID BG000038
A20-OLinuXino-LIME is a compact (84x60)mm Linux open source hardware computer.
We offer several variants of this board. Aside from the base version we offer a variant with extra eMMC or NAND flash memory (suffix -e4G, -e16G, or -n8G); we have a variant with 16MB SPI flash memory (suffix -s16M). We also have variants of the board suitable for industrial temperature range of operation (-40+85)C - these come with the "T2" chip and have "-IND" suffix in the name.
FAQ
I am an inexperienced user and I'm afraid to mess up initially. What are the most common errors in the initial start-up of the board?
The best idea is to download the latest Linux or Android image and to pay attention if it is for microSD card or the flash memory. After that ensure the image is properly written to the SD card or the NAND memory. Finally, if you are expecting video output problems, ensure the image is set with the proper settings for the display/monitor you are going to use. Double check if the power supply is sufficient (especially if powering a display from the board).
Can I use the same Linux or Android image for A10-OLinuXino-LIME or A20-OLinuXino-LIME2?
No. Both Linux and Android images are specfic for each board. Make sure the image that you download and use is specifically marked as suitable for A20-OLinuXino-LIME. The prepared cards which we sell for the board are also different.
What do I need to connect one of the Olimex-made displays to the board?
You need only a 0.1" step 40-pin cable (named CABLE-40-40-10CM).
I bought a supported LCD display and the required cables but when I connect it to the A20-OLinuXino-LIME I receive no image on the display. What do I do wrong?
Usually, the default A20-OLinuXino-LIME images are set for HDMI output. Often to use LCD or lower the resolution you would need to change the video output configuration.
What is the operating temperature range of A20-OLinuXino-LIME?
The board works in the commercial temperature range (0+70)C. We also manufacture board variants that work in the industrial temeperature range (-40+85)C - these are boards with T2 chip and suffix -IND in the na,e (for example, T2-OLinuXino-LIME-IND).
How long this board will be available?
This board will be available forever