≡
A10-OLinuXino-LIME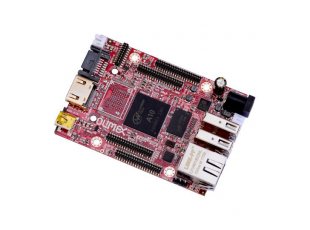 Embedded Linux computer with Allwinner A10 ARM 512MB RAM
Select Product Variant
A10-OLinuXino-LIME
A10-OLinuXino-LIME-n8GB
| | |
| --- | --- |
| Price | 34.00 EUR |
| 10 - 49 pcs | 32.30 EUR |
| 50 - 10000 pcs | 30.60 EUR |
A10-OLinuXino-LIME is OSHW certified Open Source Hardware with UID BG000037
A10-OLinuXino-LIME is a very compact (84x60)mm Linux Open-source Hardware computer


FAQ
I am an inexperienced user and I'm afraid to mess up initially. What are the most common errors in the initial start-up of the board?
The best idea is to download the latest Debian or Android image from the wiki and to pay attention if it is for microSD card or the NAND memory. After that ensure the image is properly written to the SD card or the NAND memory. Finally, if you are expecting video output problems, ensure the image is set with the proper settings for the display/monitor you are going to use. Double check if the power supply is sufficient (especially if powering a display from the board).
I bought A13-LCDxx but when I connect it to the A10-OLinuXino-LIME I receive no image on the display. What do I do wrong?
The default A10-OLinuXino-LIME Debian image is set for HDMI output and FullHD resolution. To use LCD or lower the resolution you would need to start the shell script in the default Debian image. More information might be found at the wiki article of the board.
What is the operating temperature range of A10-OLinuXino-LIME?
The board works in the commercial temperature range 0+70C
How long this board will be available?
This board will be available forever