≡
A10-OLinuXino-LIME-BOX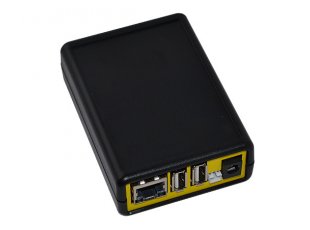 Plastic box for OLD versions A10 OLinuXino LIME boards
Plastic box for older hardware revisions of OLinuXino LIME boards with laser cut front and back panels and screws. There are (4) screws to close the box and a (1) screw to keep the board in place. Note that when the box is fully closed some of the connectors on the top of your board would be inaccessible.
The box is a modified HAMMOND 1593L. The fornt panel and the back panel are cut to allow access to the most commonly used interfaces. The board connectors available when the board is fully closed are: HDMI; Ethernet; 2 x USB type A; USB OTG; Li-Po; Power Jack; SATA power. There is provision for the three buttons also.
IMPORTANT! This box is NOT suitable for newest revisions of A10/A20-OLinuXino-LIME and A20-OLinuXino-2 boards! The mounting dents required to fit the box were removed! If you have A20 board, consider purchasing one of the metal boxes linked below!
DOCUMENTS
For general dimensions refer to the design of the original box HAMMOND 1593L.