≡
MOD-Wii-ICSP-NUNCHUCK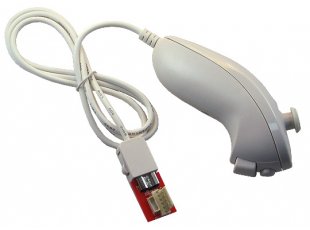 Wii Nunchuck controller with ICSP connector
| | |
| --- | --- |
| Price | 6.95 EUR |
| 10 - 49 pcs | 6.26 EUR |
| 50 - 10000 pcs | 5.56 EUR |
The WII NUNCHUCK is a controller for the Wii game console. It has a 3-axis accelerometer, a X-Y Joystick and two buttons. All these features are available through I2C communication, which makes it perfect for connecting through ICSP connector. As these controllers are mass produced for the game industry, they are at an incredibly low cost for the features they offer.
Especially for the PIC microcontrollers development boards, we made a second board - WII-ICSP board, which takes advantage of the ICSP connector located in every PIC board. The ICSP connector is not used after the programming/debugging which makes it the perfect extra port which could be used to interface the NUNCHUCK without taking additional ports.
Note that to use this board you will also need PIC-ICSP for the ICSP cross-cables as these are not included in the WII-ICSP.
FEATURES
WII nunchuk controller
3 axes accelerometer
XY joystick
Two buttons
Two ICSP connectors - 2.54mm and 1.25mm