≡
iCE40HX8K-EVB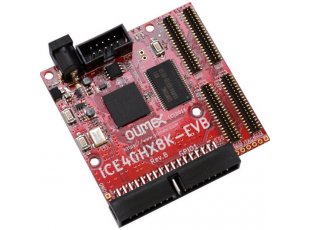 iCE40HX8K FPGA development board
iCE40HX8K-EVB is low cost development board for iCE40 FPGA family from Lattice Semiconductor.
The interesting part about this family of FPGAs is that there is a completely free and open source development tool available.
Using this free tool you can compile Verilog designs and upload them to the FPGA. More inforomation on the link in Software section.
iCE40HX8K-EVB has 34 pin bus connector which allows the easy hardware expansion of the board with additional modules like: iCE40-ADC with 100Mhz ADC; iCE40-DAC with 100Mhz DAC; iCE40-IO with VGA, PS2 and IrDA transciever; MOD-DIO with logic analyzer level shifter with programmable 1.5-5.5V threshold. Up to 4 x ADC and 4 x DAC expansion modules can be connected on same bus (if you use iCE40-IO on the same bus then only up to 2 x ADC and 1 x DAC).
FAQ
I can't program this chip via JTAG. I am use the on-board row of pinholes named "JTAG". What is wrong?


The iCE40HX8K chip has no JTAG interface. The header is left-over from initial releases of official documentation. Refer to the family datasheet to confirm it. The only way to program it is via SPI.
Newly purchased boards can't be programmed via Arduino IDE. What is the difference compared to previous revisions?

The SPI memory had to be changed due to unvailability of the original one. New memory is not supported by the old SPI flash library, use this library link. Also refer to the wiki article and latest schematic.