≡
PIC32-RETROBSD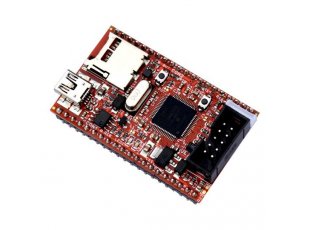 PIC32-RETROBSD is a small Open Source Hardware board with PIC32MX795F512H which is capable to run RetroBSD Unix-like system
| | |
| --- | --- |
| Price | 24.95 EUR |
| 10 - 49 pcs | 22.46 EUR |
| 50 - 10000 pcs | 19.96 EUR |
PIC32-RETROBSD is a PIC32-PINGUINO-MICRO board with a bigger processor in it - a PIC32MX795F512H. Comes preloaded with a bootloader and RetroBSD kernel.
FAQ
What else do I need to boot the RetroBSD?
You need to load the file system to a microSD card. The filesystem should be downloaded from RetroBSD's web-site. At our GitHub you can find older versions in case you need them.

Note that we sell a microSD card separately with the image from our GitHub. You can find it in the "Related Products" section below.