≡
OLIMEXINO-NANO-BLE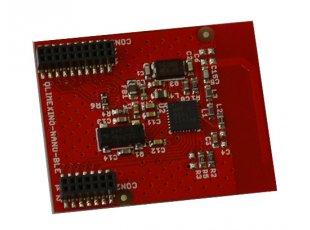 Bluetooth Low Energy module based on NRF8001 chipset for OLIMEXINO-NANO
| | |
| --- | --- |
| Price | 9.95 EUR |
| 10 - 49 pcs | 8.96 EUR |
| 50 - 10000 pcs | 7.96 EUR |
Allows BLE devices as iPhone, Samsung Galaxy, etc. to connect to Arduino boards. Compatible with OLIMEXINO-NANO.
FEATURES
nRF8001 Bluetooth v4 low-energy transciever
Fitting connectors for OLIMEXINO-NANO
Easier access to signals
3.3V operating voltage
PCB: two layer FR-4, 1.5 mm (0,062"), red soldermask, white silkscreen component print
Dimensions: (1.5 x 1.2)inch ~ (38.1 x 30.48)mm
HARDWARE
FAQ
What is the nRF8001 chip revision?
All MOD-nRF8001 boards manufactured after October 1, 2015, feature nRF8001 revision D chip.