≡
TMS320-XDS100-V3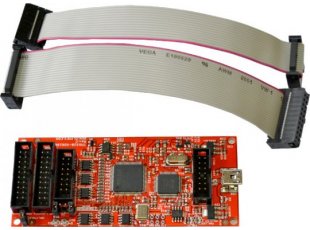 XDS100V3 - The world's lowest cost DSP / ARM high speed USB JTAG for programming and emulation
This is an XDS100v3-compliant emulator that follows the Texas Instruments' reference design.
FAQ
Does your design follow the original XDS100v3 design? If it doesn't what are the differences?
The TMS320-XDS100-V3 follows almost blindly most of the XDS100v3 reference design suggested by Texas Instruments. The main differences are that we provide extra connectors for both TI JTAG and ARM JTAG layouts; and we don't use the 20-pin compact TI headers and connector; we use 20 pin 0.1 inch pitch connectors (which are not standard according to the TI's JTAG standard; but easier to work with). You can always use jumper wires with the 0.1" pitch connectors, which is not the case with the 20-pin CTI connector.
I connected the emulator to my computer but it requires drivers. Where can I find the drivers?
The drivers are installed via Code Composer Studio. Refer to the XDS100 wiki article for detailed instructions: http://processors.wiki.ti.com/index.php/XDS100

Can I use this XDS100v3 emulator with Uniflash?
Yes, it had been tested successfully with Uniflash. Just make sure to edit the XDS100v3 connection and set the proper connection settings.
Can I use the emulator with SmartRF Flash Programmer 2?
Yes. It had been tested successfully with SmartRF Flash Programmer 2 version 1.7.2 (build #5) and CC2650.

In case you get the following error - "The selected device was not recognized. Name of the device not defined in device_info.xml XDS100 Ver 3.0" - this is caused because the name of the Olimex emulator is "XDS100 Ver 3.0" while the defintion in the programmer software is "XDS100v3". You can fix the error by editing the device_info.xml file containing name defintions. It is typically located in "C:\Program Files (x86)\Texas Instruments\SmartRF Tools\Flash Programmer 2\config\xml". Open device_info.xml with a text editor and search for the part where XDS100v3 defintions are (they follow the same pattern as below). Copy-paste the below code in the xml file and save. Then re-start the SmartRF Flash Programmer. The defintion to add looks like:

<DeviceFamily type="eb" name="XDS">
<Device name="default" family="XDS">
<UsbController>XDS100V3-FTDI</UsbController>
<DeviceImage>serial_port.png</DeviceImage>
</Device>
<Device name="XDS100 Ver 3.0" family="XDS">
</Device>
</DeviceFamily>

Refer to this picture on how the edited xml should look like this: edited device_info.xml
Do you manufacture and sell 14-pin and 20-pin CTI adapters?
No.