≡
TMS320-XDS100-V2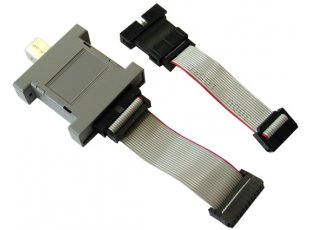 XDS100V2 - The world's lowest cost DSP HIGH SPEED USB JTAG for programming and emulation solution
| | |
| --- | --- |
| Price | 54.95 EUR |
| 10 - 49 pcs | 52.20 EUR |
| 50 - 10000 pcs | 49.46 EUR |
This is an XDS100v2-compliant emulator that follows the Texas Instruments' reference design.
FAQ
Does your design follow the original XDS100v2 design? If it doesn't what are the differences?
The TMS320-XDS100-V2 follows almost blindly most of the XDS100v2 reference design suggested by Texas Instruments. The main difference is that we don't use 20-pin compact TI headers and connector; we use 20 pin 0.1 inch pitch connectors (which are not standard according to the TI's JTAG standard; but easier to work with). You can always use jumper wires with the 0.1" pitch connectors, which is not the case with the 20-pin CTI connector.
I connected the emulator to my computer but it requires drivers. Where can I find the drivers?
The drivers are installed via Code Composer Studio. Refer to the XDS100 wiki article for detailed instructions: http://processors.wiki.ti.com/index.php/XDS100
Do you manufacture and sell 14-pin and 20-pin CTI adapters?
No.
Which version of the cpld firmware does your units have?
The latest available - the firmware has a release date 23-Apr-2010.
I can't get the adaptive clock working. Does the unit really support adaptive clocking?
Yes. TMS320-XDS100-V2 supports adaptive clocking. The adaptive clocking problems you face come from the small adapter board; the one that adapts the 20 pin TI JTAG layout to 14 pin TI JTAG layout. Boards manufactured before 15.09.2015 lack RTCK routed. You might want to remove the protective cover and connect a wire between pin #9 of each connector (RTCK is pin #9 of both 20 pin TI JTAG and 14 pin TI JTAG connectors). Refer to the JTAG table in the official article here: http://processors.wiki.ti.com/index.php/JTAG_Connectors
I didn't receive an ARM adapter in the box. Can you send me an adapter?
That is unfortunate, you have received an unit that left our production facilities before 01.02.2014. We can't send you an adapter, however you can make such relatively easy. Alternatively, you can use jumper wires. Follow the JTAG table in the official article here: http://processors.wiki.ti.com/index.php/JTAG_Connectors