≡
LED-STRIPE-16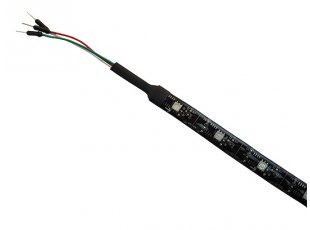 16 pcs - addressable, water proof, sealed with resin RGB stripe
| | |
| --- | --- |
| Price | 11.20 EUR |
| 10 - 49 pcs | 10.08 EUR |
| 50 - 10000 pcs | 8.96 EUR |
Addressable, sealed with resin RGB stripe with 3 cm between the LEDs. Every of the LEDs can be addressed individually with 24 bit color. Works with power supply from 5 to 12V, single pin for control, stripes can connect together to extend the length. Arduino, Pinguino, MPIDE code is available for control.
FEATURES
Dedicated TM1804 driver for each LED
Ability to control the color and brightness of each LED independently
24-bit color control (8-bit PWM per channel); 16.8 million colors per pixel
3M adhesive back side
12 mm wide, 2.6 mm thick
DOCUMENTS
HARDWARE
The wires provided to the stripe are as follows:
red wire - VCC, 5-12V
green wire - GND
white wire - data input
The maximum current consumption at 5V would be around 6mA per color, e.g. 20mA per segment.
The maximum consumption at 12V for each segment would be around 60mA (20mA per color).