≡
SD-300-Stencil-Printer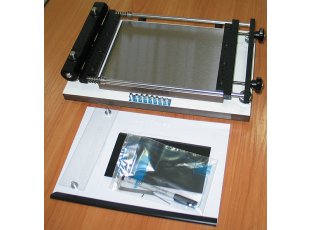 SD-300 Solder Paste Frameless Stencil Printer
A precise solder paste printer, suitable for printing paste for components down to 0201, BGA down to 0.65 mm step, QFN 0.4 mm pitch.
The best of it all is that you do not need frames for the stencils. The stencil loading and unloading is done in matter of minutes.
Adjustable X,Y displacement and rotation.
We provide one day training courses for work with this printer. The course costs EUR 100 and could be bought separately. This course will teach you how to setup the PCBs for printing, how to load and unload the stencils and how to achieve perfect printing results even for BGA and fine pitch components.
We also provide stencils manufacturing for customers who bought this printer. The stencils are frameless and with size 330x220 mm (printable area 250x200m). You can buy this stencil from the web page then send us your gerbers for the solder paste printing, the turnaround time is 1 week.
Dim: 520x280x95mm
Max pcb: 220x320mm
Max Stencil: 230x340mm