≡
PRUSA-I3-3D-PRINTER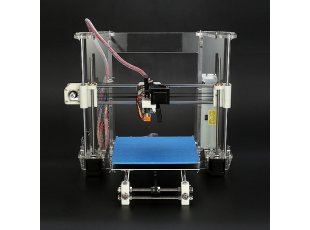 Do It Yourself Prusa i3 - 3D Printer
PRUSA-I3-3D PRINTER is one of the most popular 3D printers today. The 3D Printer design is made by RepRap Core Developer Prusajr. It is a low cost entry for first-time 3D printer users.
Note that this is sold as a kit and you must have the knowledge and the skills to assemble it.
With the printer you will get CD with building step by step instructions and all necessary software to run and print objects.
In stock, ready to ship immediately!
Made with high quality motors, bearings, electronic boards and cables.
Unleash your creativity, start printing your ideas today!
FEATURES
Prusa i3 clone
Easy to assembly
Detailed instructions
Frame: Acrylic
Printing size: 200*200*180mm
Layer thickness: 0.1mm
SD-card: Support
LED screen: No
Printing speed: 100mm/s
Standard extruder diameter: 0.4mm
Extruder temperature: 270 C
Hot bed temperature: 110 C
Hot bed material: PCB
XY axis positioning resolution: 0.012mm
Printing material support: ABS, PLA
Printing material diameter: 1.75mm
Recommended material: PLA
Software language: Multi-language
Date import format: STL, G-Code
Machine size: 430*405*370mm
Machine weight: 10KG
Packing size: 500*480*230mm
Packing weight: 12kg
Working power: 240W
Working voltage: 110V-230V adjustable (default voltage set 230V).
Working condition: Temp:10-30 C Humidity:20-50%
DOCUMENTS
complete documentation on CD with the kit
HARDWARE
SOFTWARE
included in the CD with the kit
COMMUNITY