≡
Pioneer-FreedomBox-HSK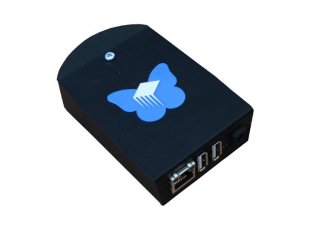 The Pioneer Edition FreedomBox Home Server Kit is a home server which respects your privacy
Select Product Variant
Pioneer-FreedomBox-HSK
Pioneer-Freedombox-HSK-UK
Pioneer-Freedombox-HSK-US
A20-OLinuXino-LIME2 is
OSHW certified
Open Source Hardware with UID BG000039
Pioneer-FreedomBox-HSK is a kit that includes all the hardware needed for launching a FreedomBox home server on an Olimex A20-OLinuXino-LIME2 board. The Pioneer Edition FreedomBox Home Server is the first commercially available version of FreedomBox. This product provides the perfect combination of open source hardware and free and open source
software. By purchasing this product, you also support the FreedomBox Foundation's efforts to create and promote its free and open source server software.

The kit includes the A20-OlinuXino-LIME2, a custom metal case with a laser-engraved FreedomBox logo, a high-speed 32GB micro SD card with the FreedomBox software pre-installed, a backup battery, a power adapter, and an ethernet cable.

Pioneer-FreedomBox-HSK kit is with EU power adapter.
Pioneer-FreedomBox-HSK-UK has UK power plug adapter.
Pioneer-FreedomBox-HSK-US has US power plug adapter.

The FreedomBox Foundation's trademarks are used under license from the FreedomBox Foundation, All Rights Reserved.
FEATURES
Kit contents:
A20-OLinuXino-LIME2 board, hardware revision G2
Custom metallic box with FreedomBox decal
Micro SD card, 32GB class 10+, loaded with FreedomBox
Power supply adapter, (110-220)V->5V
Battery, 3.3V Li-Po, 1400mAh
Ethernet cable, 1m
Quickstart leaflet
(optional) Plug adapter for UK or US sockets
Main board features:
Dual Core ARM Cortex-A7 processor running at 1GHz
1GB DDR3 RAM memory
Two USB 2.0 host ports
USB-OTG port
Native Gigabit Ethernet
Native SATA drive support
HDMI output
UPS with Li-Po battery allowing stand alone operation when external power interrupts
DOCUMENTS
COMMUNITY