≡
MOD-LCD4.3''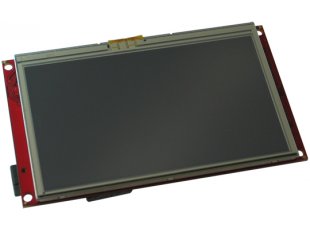 LPC1788 development board with 96MB SDRAM, 4.3 inch LCD, SD-CARD, UEXT - perfect solution for industrial panels
| | |
| --- | --- |
| Price | 43.95 EUR |
| 10 - 49 pcs | 41.75 EUR |
| 50 - 10000 pcs | 39.56 EUR |
Note that the older revisions of MOD-LCD4.3'' were sold with LPC2478. New revisions (named MOD-LCD4.3''+) feature the faster and overall better LPC1788. LPC178x is the official NXP successor to LPC2478 since the processors are pin-to-pin compatible.
FAQ
Our company frequently purchases MOD-LCD4.3". Recently purchased items have some problem with the display (it is shifted left and there are artifacts). What is the problem?
This is a software issue that was present in our official demo code and your project probably inherited it. Make sure to re-download the example and check how we edited drv_glcd.c file. LCD polarity bit should be set to value "0" (e.g. LCD_POL_bit.IPC = 0;). It was set to value "1" before, which was causing the problem.