≡
PWR-SWITCH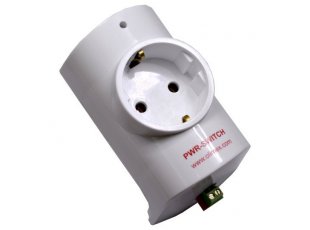 Optically isolated 230V 16A power switch for Arduino, ESP32 and RaspberryPi
PWR-SWITCH is optically isolated EU style plug and receptacle which allow loads up to 3500W to be driven safely by Olimexino, Olinuxino, Arduino, Raspberry Pi and any other microcontroller.
The switch can accept input control voltages from 3V up to 24VDC so any microcontroller is capable to switch the loads.
PWR-SWITCH is certified for CE-EMC and CE-LVD.
FEATURES
EU stype plug and receptacle
Power supply Voltage range: 90-230VAC (50/60Hz)
Commutate Voltage: Max 230VAC
Commutate Current Max: 16A
Max Wats: 3500W
Green LED status indicator
Enclosure Material: Fire-retardant ABS V0
Color: White
Operating Temperature: 0ºC-40ºC(32°F-104°F)
Humidity: 5%-90%RH, Non-condensing
Dimensions: 88*38*23mm (L*W*H)
DOCUMENTS