≡
Solder Wire SAC0307-1.0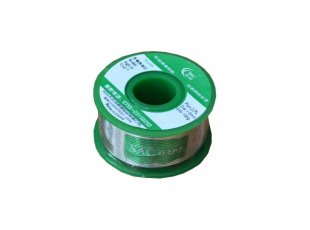 NO CLEAN LEAD FREE ROHS COMPLIANT SOLDER WIRE SAC0307 1MM DIAMETER WITH FLUX 2.2% 0.1KG
This is ROHS compliant Lead Free soldering wire.
SAC0307 is cost effective replacement of SAC305 with reduced amount of Silver and tradeoff 8C higher melting temperature, which is not a problem with hand soldering.
Thickness 1.0 mm is very good for PCB with PTH components repair and retouch. It's not so good for repair and retouch of small SMT components.
Soldering iron temperature must be set between 245 and 375C.
FEATURES
SAC0307 alloy Sn99Ag0.3Cu0.7
ROHS compliant
wire diameter 0.6 mm
melting tempearture 213-228C
No clean Flux ROL1 2.2%
net weight 0.1KG
DOCUMENTS