≡
SOLDER PASTE SN63PB37 CLASS4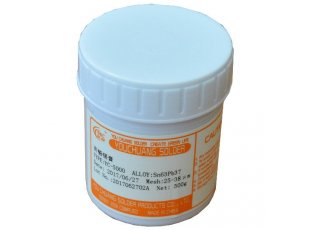 No Clean Solder Paste Sn63Pb37 Class 4 0.5KG
This solder paste contain Lead. Sn63Pb37 alloy has lowest melting temperature and excellent solderability.
This solder paste have excellent printing capabilities and is good for down to 0.4 mm pitch components.
Minimul printing appreture for 0.12 mm stencil is 0.2 mm.
This solder paste should not be used in ROHS compliant products as contains Lead.
FEATURES
Sn63Pb37 solder paste
CONTAIN LEAD
No clean flux ROL1
Class 4, 25-38 um solder balls
Melting point: 178-183C
Shelf life: 6 months
net weight 0.5KG
DOCUMENTS