≡
SNS-INDUCTIVE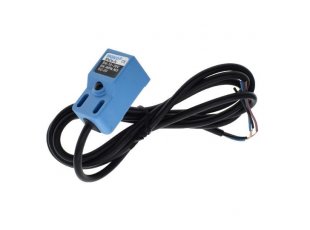 Inductive sensor for metallic objects
This inductive proximity sensor will detect the prescence of a metallic object within 5mm of the surface of the sensor. The detection distance may vary slightly depending on the shape, size, and type of metal the object is made of. It can detect through thin, non-metallic materials and has an LED indicator that turns on when the device is powered, and increases in brightness when an object is detected.
The sensor operates with 12 V DC. The ouput is Open Collector NPN
Brown wire: +VCC
Blue wire: GND
Black wire: OUTPUT
SNS-INDUCTIVE i's very convenient for detecting moving objects, machine strokes, doors open/close events. Compared with optical proximity sensors this one can work in moist and dust environment without false triggers.
FEATURES
Detecting Distance Max 5mm
Sensor Output: NPN Open Collector
Supply Voltage Min 10 VDC
Supply Voltage Max 30 VDC
Current Consumption Max: 5 mA
Cable Length: 1m
Operating Indicator: red LED
IP67
Operating temperatrure: -25 °C -75 °C