≡
MOD-RTL8188CU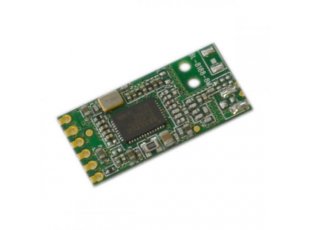 MOD-RTL8188CU is SMD USB to WiFi module, the same used in MOD-WIFI-RTL8188
MOD-RTL8188CU is supported in all official OLinuXino and SOM images. This module has no own antenna so you have to add an external one. The module works only with 3.3V.
FEATURES
BL-8188-8M WiFi wireless module with Realtek RTL8188CUS chip
Antenna: external; not included
Compliant with: IEEE802.11n/g/b
Frequency: 2.4 GHz
Data rates: up to 150Mbps
Operation Mode: Ad hoc, Infrastructure
Security: WEP, TKIP, AES, WPA, WPA2
RF Output Power: < 13dBm @ 11n, < 18dBm @ 11b, < 14dBm@11g
Receiver sensitivity: 11Mbps -86dBm @ 8%, 54Mbps -73dBm @ 10%,130Mbps -66 dBm @ 10%
Wireless transmission distance: up to 100m indoors; up to 300m outdoors (depends on the environment)
Interface USB 2.0
DC operating voltage:3.3V +/- 0.2V
Power Consumption: DC 3.3V module - Transmit: max. 160 mA; Receive: max 125 mA
Operating Temperature: 0 – 50° C ambient temperature
Storage Temperature: -10 ~ 70°C ambient temperature
Humidity: 5% to 90 % maximum (non-condensing)
Dimension: 25 x 12 x 2 mm (LxWxH)
FAQ
I see that the module has no antenna. How can I connect external antenna?
A standard connector for an external antenna is not provided by design. You would need to use one of the pin holes of the module.