≡
A33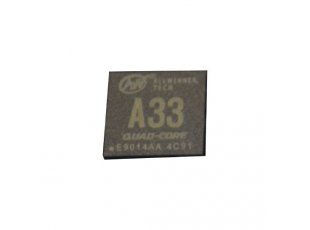 Quad Core Cortex-A7 processor
We deal directly with Allwinner factory. All chips come in factory sealed packages with tracebility.
This eliminates any risk of receiving chips with problems like: recycled from old PCBs, chips which didn't pass QC at the factory and scrapped etc chips with problems which can be sourced at low cost from Chinese online shops.
FEATURES
Minimum standard packing is tray with 116 pcs.
Factory standard packing is 1160 pcs. Only factory standard package comes with vacuum sealing.
You can order any quantity, but if different than standard packing ICs will be shipped in bulk with antistatic protection.