≡
CONNECTOR-GX16-4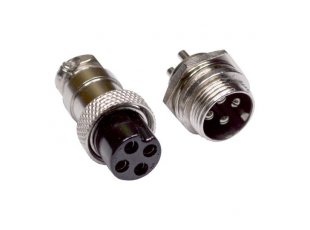 Aviation metal panel connector GX16-4 with 4 pins
Aviation panel mount connector GX16-4. The male part is for panel mount, the female part is for cable.The connector consist of male and female part. The price is for set of male and female connector.
FEATURES
Rated Voltage/Current: 20A /220V
Opreation Limit Voltage: AC 250V.rms
Withstand Voltage: AC 1000V
Insulation Resistence: Max 1200 ohm
Contact Resistance: 20 mOhm
Pin Quantity: 4 Pin
Mounting Thread Diameter: 16mm / 5/8"
Total Length ~ 45mm/1.8"
HARDWARE