≡
eduArdu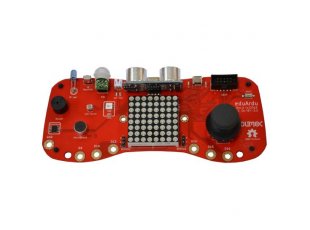 eduArdu - open source hardware educational board
Select Product Variant
eduArdu
eduArdu-BotKit
eduArdu-QS
eduArdu-QS-NOBAT
eduArdu is
OSHW certified
Open Source Hardware with UID BG000020
eduArdu is all in one educational board with lot of sensors which allow step by step entry in programming. It works with Arduino IDE as Arduino Leonardo and all features has demo and libraries.
eduArdu has extension for Snap4Arduino and allow all board features to be programmed in visual way.
eduArdu-QS (quick start) includes not only the board but also two servo motors, LiPo 1400mA battery, USB A-Micro cable, seven crocodile with 1 meter cable for makey makey like buttons implementation.
LiPo batteries are considered dangerous goods which makes them impossible to be shipped by air, this immediately exclude all countries outside EU which has no ground transport, this is why we introduce eduArdu-QS-NOBAT which is eduArdu-QS but without LiPo battery and can be shipped by air.

eduArdu-BotKit is set of two continuous rotation servo motors, two wheels and support ball wheel, which transform eduArdu in small robot.