≡
Solder Wire Sn60Pb40-0.7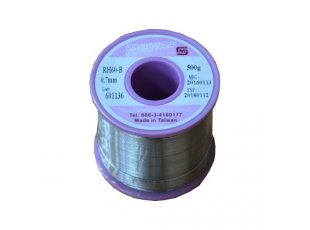 No Clean Tin Lead Sn60Pb40 Solder Wire 0.7mm diameter 2% Flux 0.5KG
Sn60Pb40 is classic high quality general purpose solder.
The 0.7 mm diameter is good for repair and retouch of both SMT and PTH components.
This solder should not be used for ROHS LEAD FREE assemblies as will contaminate the assembly with lead and it will be no longer ROHS compliant!
FEATURES
Sn60Pb40 soldering alloy
CONTAINS LEAD
Melting temperature 190C
No clean, solder flux ROL1 2%
Wire diameter 0.7mm
Net weight 0.5KG