≡
NAND Flash 8GB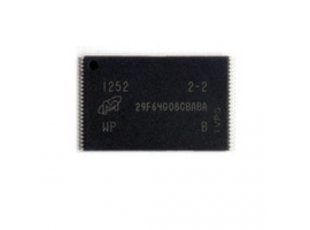 8GB x8 NAND Flash memory
NAND memory used by Olimex
We used to use H27UBG8T2BTR in all our boards with -4GB versions of our Linux-enabled board designs, this IC is not produced anymore so instead of it we use now 8GB NAND Flash from Micron with part code MT29F64G08CBABAWP.
The memory is used typically as a storage and boot location of the Android or the Linux OS. If you bought a board without NAND you would also need to solder the rest of the components of the NAND part of the schematic - resistors and capacitors. Refer to your board's schematic for more info.
FEATURES
Minimum standard packing is tray with 96 pcs
Factory Standard packing is 960 pcs
You can order any quantity, but if different than standard packing ICs will be shipped bulk with antistatic protection.
DOCUMENTS