≡
Self Hosting Web Server
Vote
Creating a self web hosting server with a Olimex A20 and using two usb keys as a Raid1 system.
Good performance for a personal usage :-)
fGrabber
Vote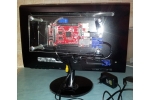 OLinuXino A20 is used as frame grabber using EasyCap USBTV and RC11 remote wireless. This system is connected to old analog video sources to produce digital output to print or store. In many cases, change of integrated equipments to produce video streams is very expensive (es: medical equipments, measuring instruments), so one of solutions is acquire analog and produce digital.