≡
GTC
GENERAL TERMS AND CONDITIONS
Please note: If you have made a purchase from us, we have required you to read these conditions and tick a box confirming your acceptance. If you wish to disagree with these terms and conditions after your purchase, we are unlikely to change or relax the terms or conditions to suit your circumstances. Please read these terms and conditions carefully. If you do not agree with them, please do not purchase from us.
Have a question? Check our FAQ for answers! We try to answer there the most common questions, but if you need more specific information, please contact us here : info at olimex dot com.
Have a technical question for Tech Support? Easiest way to get in touch is by sending e-mail to support at olimex dot com. Remember! We don't know everything, there is community support on the Olimex Forums! Post your question and you will have access to the experience of our community at your finger tips.
Orders
All orders must be placed through our website https://www.olimex.com
Please note: OLIMEX Ltd does not consider the receipt of a Purchase Order document as valid submission of an order if this order is not placed through our web site this order do not exist for us. You can't place an order with us through faxes, emails, phone calls, so please don't do this.
There are no minimum orders.
Please Note: It may not be possible to cancel your order once it has been placed. To avoid any trouble, please make sure you want everything in your cart before clicking 'Submit Order'.
If you entered correct e-mail when filling your order you will receive e-mail confirmation if you complete your order online.
You can check your order status from this page: https://www.olimex.com/order-status
Prices
All prices on our web are in EURO currency. For customers from Bulgaria (when select Bulgaria as country in CHECKOUT page), prices are shown in Bulgarian Leva and payment is effected in BGN.
All price discounts are generated automatically at the time when you enter your order depend on the quantity you enter, we do not offer any other discounts than these on our web.
Quotations/Offers
Please do not ask us to make manual quotations/offers for you - all our offers are generated automatically - just add the items you are interested to your basket, CHEKOUT and select your country then select your preferred transport option - you will see how much total cost is and no need to ask us for this. Note that even if the orders are submitted they need to be paid to be processed. Orders which are submitted but not paid are ignored, so do not worry that you "place" order on our site. If the order is not paid it will not be proceed.
European VAT Registration and Exemption
If you're a Non-Bulgarian VAT registered business based within the EU economic area you can avoid paying VAT on your purchase with us by taking the following steps:
1. Enter your VALID VAT-ID when you place your order (the VAT-ID field will appear only when you select country within EU economic area).
2. DO NOT place your order until you see the VAT at checkout go to zero.
Requests to refund VAT on purchases made where there is a valid VAT number, but where the VAT-ID was not entered at the time of the purchase and the order is paid and shipped with invoice including VAT, will incur a EUR 30 admin fee to action the refund.
Please be very careful when you enter your VAT-ID, we recommend you to check if it is valid VAT-ID first at VIAS WEB site as when you enter your order we do not do real time check due to the permanent problems with VIES servers they quite often timeout or are down. We check these VAT-IDs before shipping though, so entering incorrect VAT-ID will lead to significant delay in your order processing and it may be hold for several days untill we collect the not paid VAT 20%, so our advice is to enter only VAT-IDs which first you check on above web site and it confirms them. Some countries like Spain and Italy have "internal" VAT-IDs which are not updated to VIES VAT-ID server, if you have such VAT-ID please do not enter it as it is not valid VAT-ID for EU VAT free purchase.
Payments
All orders with us have to be pre-paid. We do not offer any other terms.
CREDIT CARD: We accept Visa, Mastercard, Visa electron and Maestro cards. Please contact us in case you want to pay with a JCB card. Some card operators like the Italian CARTASI do not allow payments to Bulgaria. The card payments are processed online by United Bulgarian Bank card processing. Restrictions for this payment option for some countries exist, if when you select your country this payment option is not listed this means your country is excluded for security reasons. If the order value is above EURO 300 card payment fee will apply.
To protect you from fraud payments with your Visa or MasterCard, we use the best practices recommended by international card organizations:
SSL protocol is used to encrypt the connection between our server and the servicing bank and your card info is transmitted secure.
The authenticity of your card is verified by introducing security code (CVV2)
In addition, to identify you as the cardholder, the payment server of our servicing bank supports the authentication schemes of international card organizations - Verified by VISA and MasterCard SecureCode, in case you have registered to use them.

PAYPAL: PayPal is fast, easy and efficient and allows people who have PayPal accounts to transfer money easily to us. Opening a new account is free. You can pay with your card via paypal also. PayPal has service charge of 5% which will be add to your order value. Note that your payment should be sent in EURO currency, payments sent in other currency than EURO will be refunded back and the order canceled. Also please note that the address you fill in your order and the paypal address should match. If paypal and order addresses do not match your order will be put on hold and not processed.
BULGARIAN BANK TRANSFER : available only for orders from Bulgaria, the transfer should be made in Bulgarian Leva, your order BGN equivalent will be written in the confirmation document you receive for your order. Please use your order number as a reference for your payment, or we may not be able to identify your funds and process your order.
FOREIGN BANK TRANSFER : You may transfer payment from your bank outside of the Bulgaria to our bank. All charges, made by your bank and middle banks must be paid by you. Please chose the 'Bank T/T' option at checkout, and you will be sent an e-mail with IBAN and SWIFT account details. Please use your order number as a reference for your payment, or we may not be able to identify your funds and process your order. Orders where payment has not been received 15 working days after the order was placed will be cancelled. Please note that bank transfers usually take few business days to move the money from one account to other. We will not ship your order until your payment is verified by our bank. A record of the transaction from your bank is not sufficient to release an order. Due to the high cost of accepting bank trasnfers all orders paid by bank transfer are subject to bank handling fee if your order is below EUR 1000.00; The bank handling fee is EUR 30 if the payment is sent form country outside Europe Union. Please note that all bank transfer fees should be covered by the sender (Detail of charges: OUR). If the payments are sent with option SHA we will not receive the order amount and will not be able to process your order. Payments from European Union countries which use SEPA transfers are not subject to bank handling fees.
USA orders BANK TRANSFER for our USA customers we offer payment in USD in Olimex's US bank account. Note that this option is available only for US customers. The payment is domestic and bear no charges. The USD/EUR exchange rate of the day of the order is used. The payment should be completed in 3 days or new order should be placed as EYR/USD exchange rate vary.
UPT : this is service is for sending cash and available for our Turkish customers who do not have paypal option. Contact us for more information.
CASH ON DELIVERY: This option is available for orders from Bulgaria only.

REFUNDS: We will issue refunds via store credit, credit card or PayPal. In case we need to return you money for paid to us with a card contracted or delivered / performed goods or services, we will refund you by a credit transaction on the card used for the original purchase.
Shipping
We will ship your order in 3 working days after the payment receipt. All orders are shipped on first come first serve basis. For us all orders are equal urgent and we do not prioritize one order for behalf of others.
Usually 90% of the orders which are paid before 10.00 AM Bulgarian local time are shipped the same day and these with payment received after 10.00 AM are shipped the day after we receive the payment, but we say we ship in 3 working days as sometimes there are many orders to process and this require additional time, so please always consider that your order will be shipped in 3 working days, if we ship faster we are sure you will not complain :)
All orders are shipping from Plovdiv, Bulgaria.
Check order status
You can check your order status from this page: https://www.olimex.com/order-status
Billing and Shipping
We do not allow billing and shipping addresses in different countries. Please do not try to cheat by entering incorrect addresses for billing if in different country, on such orders the billing info will be deleted automatically.
Shipping invoices
Invoices are generated at the time of shipping. The shipping invoice and notification is sent to e-mail address which is entered when order. If you do not receive shipping notification and invoice check in your SPAM filter or if your e-mail do not block PDF attachments. You can always download your shipping invoice for your current or previous orders at https://www.olimex.com/order-status
Broken Items during shipment
Note: claims for broken items can be made only if your shipment was insured. When you have shipment with insurance, please always check the shipment content in the presence of the courier when receive it. If there are broken items make official claim. If you do not make claim and you find items broken later when the courier is not present the courier company may decide that you broke the item after the delivery and not accept the claim. We will need this claim reference to deal with insurer.
Incorrect addresses
Orders which have incorrectly filled addresses usually got non delivered and return back to us. In case of post shipments there are no additional fees for the returns, when parcel returns we just refund the cost of the boards without the shipping charge.
The courier companies are more flexible, but if for some reason the customer didn't provide correct phone or address and is unreacahble there are two options - the parcel to be destroyed or to be returned back. Note that shipping back charges are ALWAYS several times higher than the special shipping charge we have from the couriers because we have special discount only for shipping from Bulgaria, but when the shipment is from another country (return) they bill us on their standard tariff which is in range EUR 80-100.
For the couriers the shipping address must be physical address with someone who is AVAILABLE to sign for the delivery. No POST BOX or address where no one is during the working courier hours. They will not leave it on the address without someone to sign. Also couriers will not deliver to UNIVERISTY addresses where thousands of peoples are located. They will not spend time to look for you in the University just return the parcel.
Shipping options
NOTE: Olimex cannot be held responsible for damaged, lost, or stolen packages for non insured parcels.
If you want to add insurance please check the insurance checkbox on the checkout page.
Note that all times quoted below are for WORKING days and exclude weekend days, also if your country is outside EU there may be additional delays caused by import export procedures and customs clearances.
AIRMAIL: This is not-insured, non-trackable POST service. We allow only orders under EUR 100 to be shipped with this service. Delivery to Europe usually takes 1-2 weeks, outside Europe 2-5 weeks. Once we ship by POST there is no way to track or trace where is your shipment or if it stolen, missing etc. Be careful and use this shipping option on your own risk. If you choose this shipping option, we can't do anything to help you with your parcel once we ship. Orders sent by post will not have a proof of postage. Why I do not have cheap AIRMAIL shipping for my country? Airmail is available for every country, but it's slow service and some people do not want to wait, but just dispute their payments after 1-2 weeks from the shipping, then they receive their parcel for free and forget that they disputed the payment, when the number of such people from given country rises too much, we just disable this shipping option for this country.
DPD CLASSIC: This is Road service very suitable for shipments with higher weight, usually arrives in any European destination for 1 week. All parcels shipped by DPD have automatic Limited insurance for up to 520 EUR per parcel, with online tracking at www.speedy.bg DPD do not deliver to post boxes.
DHL: This is probably the best option to use as DHL accept parcels up to 17.00 oclock, this means that if you are from EU and place your order even hour before we close there is pretty good chance your parcel to be on your desktop next day in the morning. Good price and very fast service. Our own monitoring show that all parcels we ship with DHL usually are delivered in average 1.5 days worldwide (do not include customs delays), this means large portion of the shipments are delivered next day. By default this is not insured service, online tracking is available at www.dhl.com. DHL do not deliver to post boxes.
TNT EXPRESS: This is good price and fast service but TNT accepts parcels until 15.00 o'clock so if your order arrives later the shipment will be next day. For most of the Europe destinations and parcels arrive next day or in 2-3 days, but not as fast as DHL for other parts of the world. By default this is not insured service, online tracking is available at www.tnt.com. TNT do not deliver to post boxes.
FEDEX INTERNATIONAL PRIORITY: This is expensive service but preferred in some parts of the world. By default this is not insured service, online tracking is available at www.fedex.com. The parcel usually needs 2-4 days to arrive to you. FedEx do not deliver to post boxes.
SPEEDY: This is for shipments only inside Bulgaria, they are express for next day delivery and economy for two days delivery. Note that some remote destinations may take three or more days, reffer to Speedy transit time calculator for this.
SPEEDY FOR GREECE: This is extremly fast service if you live in the bigger cities like Thesaloniki or Athens etc, Speedy usually deliver the parcel to Thessaloniki next day we ship then it's distributed by local Greece courier or post for the remote destinations and islands. There is phone numbers in Greece 0030 2321098003, 2321035735 which you can call and ask info about your parcel as the Speedy tracking works just to Thessaloniki depot :).
SPEEDY FOR ROMANIA: This is extremly fast service if you live in Bucuresti they usually deliver next day we ship, from Bucuresti the parcels are distributed from local courier so in 1 to 3 days the parcel will reach any Romanian destination.
UPS EXPRESS SAVER: Decent service but take parcels only by 12.00 this means that all orders received after 10.00 with UPS shipment will just stay in UPS office until next day, this is why UPS EXPRESS SAVER shipments may arrive next day or max in 2-3 days in Europe and few days more for Rest of the World. By default this service is not insured, online tracking is available at www.ups.com. UPS do not deliver to post boxes.
UPS STANDARD: This is road service like DPD but is with better price for small packages 1-3 KG for some destinations. By default this is not insured service, online tracking is available at www.ups.com. The parcel usually needs 1 week to arrive to you.
PLEASE NOTE: all transit times above are just based on past experience the courier companies from time to time may deliver for more than the quoted above time. We will not refund your shipping charges if any of the above transport companies fail to meet above quoted delivery times.
Country of Origin
All our boards are produced in our factory in Plovdiv, Bulgaria, European Union.
On our web we sell Integrated Circuits which are made by NXP, TI, Samsung, Hynix, Micron, Allwinner, Espressif which are not manufactured in Bulgaria.
Some Robot part components, bearings, magnets, plastic and metal parts also may or may not be manufactured in Bulgaria.
Imports and duties
Any duties and taxes for international shipments are the responsibility of the customer.
Olimex Ltd is not responsible for any extra charges once the original package has been shipped.
If the customer refuses to pay these extra import charges, the return shipping and any additional fees will be taken out of the cost of the order, with any remaining funds being refunded to the customer.
Please consult with your local import customs authorities about the import duties and taxes you have to pay before ordering.
Note that as written above the courier shipment returns may be several times higher than the special price we have for shipment from Bulgaria, so in some cases the shipping back charge may be higher than the order content in such situation if the customer refuse to accept the parcel and pay the import duties the parcel we will order the courier to distroy the shipment at destination and not deliver back and no refund will be made to the customer.
Warranty
All goods we sell are new, factory fresh and tested before enter our stock. Only very rarely does an item not function at first use. If this happens, we will do our very best to replace it as long as the below conditions for return are met.
Please check your order as soon as you receive it. Any goods to be replaced must be returned within 7 days.
The warranty covers manufacturing defects and faulty components, please note that warranty do not cover problems due to improper use, over voltage abuse, ESD shock, improper handling etc.
Returns
All goods are checked before they are sent out. In the unlikely event that goods are faulty, they must be returned, to OLIMEX at the address listed on your order invoice.
OLIMEX will not accept goods that have clearly been used.
If the goods are found to be in working condition, and the lack of functionality is a result of lack of knowledge on the customers part, no refund will be made, but the goods will be returned to the user at their expense.
All returns must be authorized by an RMA Number. Email support@olimex.com for authorization number before shipping back any merchandise. Please include your name, phone number and order number in your email request.
Returns for any unaffected development board, programmer, tools, and cables permitted within 7 days from the date of receipt of merchandise. After such time, all sales are considered final.
Returns of incorrect ordered items are allowed subject to a 10% restocking fee. What is unaffected? If you hooked it to power, you affected it. To be clear, this includes items that have been soldered to, or have had their firmware changed. Because of the nature of the products we deal with (prototyping electronic tools) we cannot allow returns of items that have been programmed, powered up, or otherwise changed post shipment from our warehouse.
All returned merchandise must be in its original mint and clean condition. Returns on damaged, scratched, programmed, burnt, or otherwise 'played with' merchandise will not be accepted.
All returns must include all the factory accessories which come with the item. This includes any In-Circuit-Serial-Programming cables, anti-static packing, boxes, etc.
With your return, enclose your PO#. Also include a brief letter of explanation of why the merchandise is being returned and state your request for either a refund or an exchange. Include the authorization number on this letter, and on the outside of the shipping box.
Please note : It is your responsibility to ensure that returned goods reach us. Please use a reliable form of shipping. If we do not receive your package we will not be held liable.
Shipping and handling charges are not refundable. We are not responsible for any shipping charges of merchandise being returned to us or returning working items to you.
Boards which are originally shipped by us in ESD antistatic packing, returned back to us not inside ESD protective antistatic packing will be considered with void warranty. We will not repair nor replace such boards.
Long Term Availability
We produce all our boards as long as there is reasonable demand for them and we can source the major components.
Sometimes the number of sold boards per year go below reasonable manufacturing levels, in this case we mark this board as obsolete once it goes out of stock and we have no stock of blank PCBs for it.
Note that obsolete boards could be ordered, in such case contact us and ask for quotation, we will respond with the minimum order quantity to manufacture this board. It usually is about 100 pcs for most of boards.
ROHS / REACH
All OLIMEX products are ROHS and REACH compliant.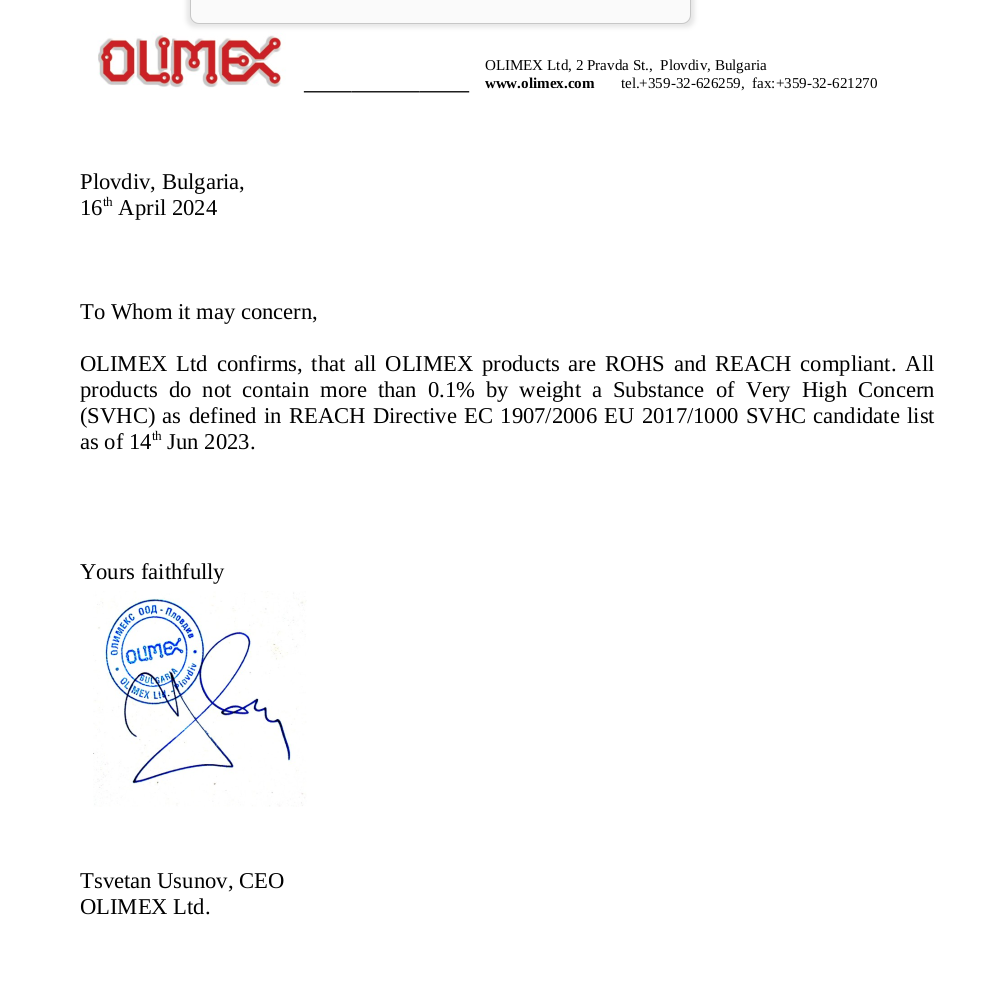 Sponsorship
OLIMEX tries to support and encourage open source movement and projects, the implementation of these goals though is not easy.
We ran "Free boards for open source initiative" back in 2011 and for nine months we gave away more than 30 different boards and programmers to people who submitted projects to us, promising that they will complete this or that open source project, needless to say 19 months later none of them is complete, the reasons - no time to complete this yet ;)
So obviously give me free board I promise will do this or that do not attract serious people but these who just want to grab free stuff.
Later on we decided to do something else - developers who buy our boards and then do open source project with them to receive discount for their next purchase, this kinda working better than the first initiative, but is so long in time that many developers forget to ask for their discount.
So what we decided to do from now on is to send some of our newly developed boards to people who we see to be active on our forum , to contribute and help others there when they have questions, also the active developers around OLinuXino project always can count on us to receive free boards of all new OLinuXino boards we make. These are people who help with the Linux Kernel, drivers, Linux distributions etc.
Hacker-labs, Hacker-spaces, communities which teach childerns on volunteering basis in Bulgaria and all around the world will always get discount, just contact us and send us your web site and the projects you have been completed and working on, before you make your order so we will assign you special login username and password for ordering with discount.
Holidays
Olimex will be closed the following days in 2023. No orders will ship these days, but you can still place an order through the website as usual.
Summer Break - 7th to 18th of August.
Christmas & New Year - from 23/12/2023 to 02/01/2024.
Communication language
The communication will be done in English for foreign orders or support questions and in Bulgarian or English for orders or support questions from Bulgaria.
Support related questions sent in other than English or Bulgarian language will be ignored and not answered.
Web content change
OLIMEX Ltd shall have the right in its absolute discretion at any time and without notice to amend, remove or vary any of the content supplied in connection with the Service or which appears on any page of the OLIMEX Ltd Web site.
Privacy Policy
This privacy policy sets out how www.olimex.com uses and protects any information that you give when you use this website.
OLIMEX is committed to ensuring that your privacy is protected. Should we ask you to provide certain information by which you can be identified when using this website, then you can be assured that it will only be used in accordance with this privacy statement.
OLIMEX may change this policy from time to time by updating this page. You should check this page from time to time to ensure that you are happy with any changes.
What we collect:

name
contact information including email address and telephone number
items you purchased
shipping option
What we do with the information we gather:

We use it to complete your order
Internal book keeping and accounting.
We may contact you by email, phone, fax or mail if there is something wrong with your order or shipping.
Security:

We are committed to ensuring that your information is secure. In order to prevent unauthorised access or disclosure, we have put in place suitable physical, electronic and managerial procedures to safeguard and secure the information we collect online.
Controlling your personal information:

We will not sell, distribute or lease your personal information to third parties unless we have your permission or are required by law to do so.
Google Analytics
This website uses Google Analytics, a web analytics service provided by Google Inc. ("Google"). Google Analytics uses "cookies", text files that are stored on your computer, to help with the analysis how users use the website. The information generated by the cookie concerning your use of this website (including your IP address) will be passed on to a Google server in the USA and saved there. Google will use this information for evaluating your usage of the web site, for compiling reports about the web site activities for the website operators, and for providing further services in connection with web site usage and Internet usage. Google will also transfer this data to third parties if necessary, provided that this is legally mandated or insofar as third parties have been commissioned by Google to process this data. Google will never associate your IP address with any other Google data. You may refuse to store cookies by selecting the appropriate settings on your browser software; however, we would point out that, in this case, you may not be able to use all functions of this website to their full extent. By using this web site, you confirm that you agree with using the data collected about you by Google in the manner described above and for the mentioned purpose.
Facebook Plugin
Our website uses social plugins ("plugins") provided by the social network Facebook. these are operated exclusively by Facebook Inc., 1601 S. California Avenue, Palo Alto, CA 94304, USA ("Facebook"). In he context of our internet presence, the plug-ins are identified by means of the Facebook logo or the addition "Like". When you visit a page of our website that contains a social plugin, your browser establishes a direct connection to Facebook servers. Facebook directly transfers the plugin content to your browser which embeds the latter into the website. This allows Facebook to receive information about you having accessed the respective page of our website. If you are logged in to your Facebook account when visiting our website, Facebook can associate this visit with your user account. If you interact with the plugins, for example by clicking "Like", or entering a comment, the corresponding information is transmitted from your browser directly to Facebook and stored by it. If you are a Facebook member and do not want Facebook to connect the data concerning your visit to our website with your member data already stored by Facebook, please log off Facebook before entering our website. For the purpose and scope of data collection and the further processing and use of such data by Facebook, and your rights in this respect as well as settings options for protecting your privacy, please visit the data protection notices of Facebook.
Google +1 Plugin
Capture and forwarding of information: The Google +1 button lets you publish information worldwide. Via the Google +1 button, you and other users receive personalized content from Google and our partners. Google stores both the information that you entered for a piece of content +1 as well as information concerning the page you were visiting when you clicked on +1. Your +1's can be shown as tips together with your profile name and photo in Google services, such as search results or your Google profile, or in other places on websites and in ads on the Internet. Google records information on your +1 activities to improve Google services for you and others. To be able to use the Google +1 button, you need a globally visible, public Google profile that must contain at least the name chosen for the profile. This name is used in all Google services. In some cases, this name can also replace another name that you have used when sharing content via your Google account. The identity of your Google profile can be displayed to users who know your e-mail address or have other identifying information about you. Use of the collected information: In addition to the above- described uses, the information you provide is used in accordance with the applicable Google data protection/privacy policies. Google may publish aggregate statistics regarding the +1 activities of users or disclose these to users and partners, such as publishers, advertisers or associated websites.
Twitter Plugin
We have integrated Twitter functions on our website. These features are offered by Twitter Inc., 795 Folsom St., Suite 600, San Francisco, CA 94107, USA. By using Twitter and the "Re-tweet" function, the web pages you visit are linked to your Twitter account and made known to other users. These data are also transmitted to Twitter. We point out that we, as providers of the sites, have no knowledge about the content of the transmitted data and their usage through Twitter. For more information, please refer to the data protection declaration of Twitter at https://twitter.com/privacy.
Cookies
So-called through cookies are used on this website for collecting and storing data. Cookies are little data packages, which your browser stores on your end device at our instigation. There, they do not cause any damage. They do not contain any viruses and do not allow us to spy out your data. Two types of cookies are used for this purpose. Temporary cookies are automatically deleted when you close your browser. Permanent cookies, however, may remain on the computer for days, months or even years. This type of cookies allows you to be recognised again when recalling the websites after having left it. With the aid of cookies we are able to track your user behaviour for the aforementioned purposes and to a corresponding extent. They are also intended to optimise your surfing of our website. These data, too, we collect only in anonymized or pseudonymized form. You can set your Internet browser so that cookies cannot be stored on your end device or cookies already stored are deleted.