≡
Autotronik-BS391V1-V
AUTOTRONIK MACHINES FOR SALE
MACHINE 1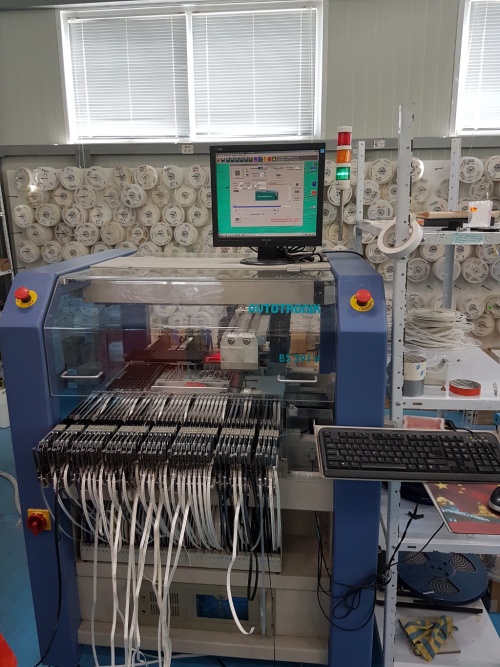 This is our first automatic pick and place machine. We bought it brand new in year 2008 after doing quite long research among Autotronik, Fritsch, TWS, Essemtec and other brands.
What made us to select this machine is that it was the only which could assembly our test job with 0201 components, all other failed.
So far it have 9000 working hours. We still use it daily for assembly of small series of boards. It's very easy for maintain and program.
Here you can see it in action: [[1]]
We sell it because it's very slow compared to new Sony and Samsung machines we operate now.
Features:
Placement area: 660 x 365 (LxW) mm
Placement speed: up to 6500 cph (IPC9850)
Vision on the fly system with one incorporated camera for alignment of components from 0201 up to 16x14 mm
Upward Vision System for alignment of larger components up to 38x38 mm ICs, 0.5 mm pitch
Built-in Camera System with auto Fiducial Mark Learning
Maximum 160 8 mm feeder positions (without conveyor). With conveyor – up to 96 8 mm feeder positions
Two Feeder Racks, each one for up to 48 8 mm feeders
Smart Feeder ID Function for fast set-up and easy operation
PC with TFT monitor
Windows Operating Software
We have following feeders for this machine:
KFTA-08 – 8mm Smart Tape Feeder (4mm pitch) 80 pcs
KFTA-08HS – 8mm Smart Tape Feeder (2mm pitch, for 0201 and 0402 components) 3 pcs
KFTA-12E – 12mm Smart Tape Feeder 8
KFTA-16E – 16mm Smart Tape Feeder 8
KFTA-24E – 24mm Smart Tape Feeder 5
KFTB-4 Universal Vibratory Stick Feeder with 20 slots (for maximum 20 sticks, each one 8mm in width)
MACHINE 2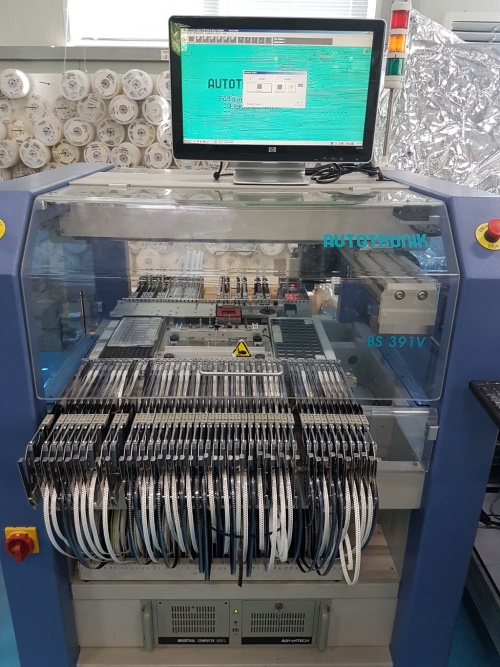 This is our second machine we bought new in year 2011. It has 4000 working hours and same parameters as MACHINE 1.
SOLDER PASTE PRINTER 1 BS1400 SEMI AUTOMATIC WITH VISION CENTERING
SOLDER PASTE PRINTER 2 BS1400 SEMI AUTOMATIC WITH VISION CENTERING