≡
A20-SOM204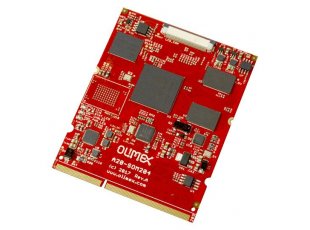 SO-DIMM format system on chip module with A20 Dual Core Cortex-A7 processor
Select Product Variant
A20-SOM204-1G
A20-SOM204-1G-M
A20-SOM204-1Gs16Me16G-MC
T2-SOM204-1G-I
T2-SOM204-1Gs16Me4G-C-I
T2-SOM204-1Gs16Me8G-MC-I
| | |
| --- | --- |
| Price | 60.00 EUR |
| 10 - 49 pcs | 54.00 EUR |
| 50 - 99 pcs | 48.00 EUR |
| 100 - 999 pcs | 45.00 EUR |
| 1000 - 10000 pcs | 42.00 EUR |
A20-SOM204 is a System-on-Chip module, which contains A20 Dual Core Cortex-A7 processor, power managment unit AXP209, 1GB DDR3 memory. This SOM board can have up to 64GB eMMC flash memory (eXXG) and/or 16MB seral flash memory (s16M).
Ordering code is as follows: A20-SOM204-1Ge16Gs16M-MC
The suffix after A20-SOM204 is abbriviation of the extra features available. For example, suffix "1Gs16Me16G-MC" means 1GB RAM; 16MB SPI Flash; 16GB eMMC flash; additional Megabit Ethernet and Crypto engine. Notice that only one Ethernet connection can be active at a time.
Suffix -I means that the components of the System-on-Module are picked for industrial temperature range of operation (-40°C to 85°C). Lack of suffix "-I" means that the board is suitable for commercial temperature range of operation (0-70)°C.
Reference design SOM204-EVB with CAN, SATA, PCIe, USB3.0, USB-OTG, USB2.0 HOST, VGA, HDMI, Audio In/Out, 2 Mpix Camera, Gigabit and Megabit Ethernet is available with Eagle CAD files, so everyone can modify and tailor to his needs. Templates for A20-SOM204 receiptacle done in Eagle and KiCAD are available.
FEATURES
Allwinner A20 dual core Cortex-A7 processor, each core typically running at 1GHz
AXP209 PMU IC
1GB DDR3 memory
Up to 64 eMMC (marked as eXXG)
Gigabit Etherner (default option)
Additional Megabit native Ethernet (-M option)
SATA
Optional Crypto engine (-C option)
Status LED
204 pin SO-DIMM signals on PCB edge
Flat cable 40 pin LCD connector
Flat cable 12 pin GPIO connector
Dimensions: 67 x 84 x 5 mm
Operating temperature: (0-70)°C for A20-SOM204XXX
Operating temperature: (-40+85)°C for A20-SOM204XXX-I
DOCUMENTS
A20-SOM204 user manual (under development)
FAQ
Can I get both GbE and MbE ports working at the same time?

We haven't been able to get both Ethernet ports working at the same time ourselves. For the moment we believe that it is not possible to have them working simultaneously. The Allwinner documentation made us believe that it is possible but after a lot of testing we concluded that the documentation is missing to mention some hidden multiplexing. For the moment, you can have either the GbE or the MbE working at a time, you can run script to switch between one or the other.

Of course, you can add external Ethernet to the board via standard communication interface. Maybe the easiest way would be via USB-Ethernet adapter, something like this: https://www.olimex.com/Products/USB-Modules/USB-ETHERNET-AX88772B/
Is there Android or Linux loaded on the eMMC?

No.
How can I get this board working stand-alone when there is no OS loaded on the eMMC?

You can't get it easily working stand-alone (unlike our other A20 desgins). The A20-SOM204 board is meant for people already familiar with Allwinner A20 and experienced with other Olimex A20 boards that want to downsize their project. If you are evaluating the design get A20-SOM204-EVB